MakerDAO's DAI stablecoin yesterday reached a market capitalization of $ 1 billion for the first time yesterday
The new assessment is according to data obtained from analytical cryptocurrency company CoinGecko; stablecoin had a relatively quiet week, with only small stocks until yesterday's peak. Before the $ 30 million jump that took the currency to $ 1 billion, market capitalization was around $ 960 to $ 975 million.
The achievement now puts the overall dominance of the Dai market at 0.22%. Dai's current trading volume is over $ 81 million and, at the time of writing, DAI is traded for just over $ 1.00. Eight hours after exceeding $ 1 billion, Dai's market capitalization fell briefly to $ 996 million before recovering three hours later. Today, market capitalization remains around $ 1 billion, although signs indicate that it may fall again.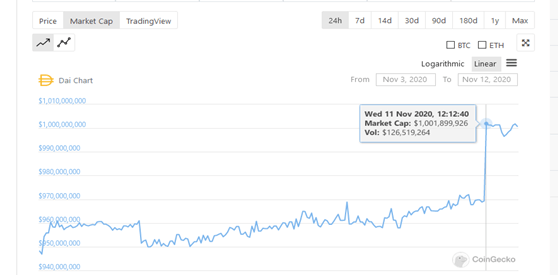 The MakerDAO Foundation has not yet made any official communications about the milestone so far. Analysts quickly drew a comparison between that achievement and DeFi's, which reached $ 1 billion in total blocked value (TVL).
The latter broke the $ 1 billion mark on February 7. Since then, the DeFi space has seen explosive growth, with only September and October being the months of low activity. The DeFi sector managed to register several peaks in this period, that is, between February and November. At the time of writing, TVL's maximum lifespan – established earlier today – is $ 13.7 billion, according to DeFi Pulse. Yesterday, the total amount blocked on all DeFi protocols reached $ 2.98 billion.
MakerDAO is second in the DeFi sector in terms of the total blocked value with $ 2.3 billion. Uniswap has the largest TVL with $ 3 billion, representing 22% of the entire DeFi space. The percentage supply of the blocked manufacturer is 2.3%