Tezos (XTZ), Cardano (ADA) and Chainlink (LINK) are rising more than 5% today, with the main Altcoins flashing green.
The Altcoin market is in the shadow of Bitcoin for much of May, after the halving of the main cryptocurrency and attempts to breach $ 10,000, being the focal points of the entire cryptocurrency market.
Bitcoin, along with Ethereum, XRP, Bitcoin Cash, EOS and Litecoin, have seen slight gains in the past 24 hours.
Tezos, Cardano and Chainlink, however, saw great movements in the same period and are now at the top of the market as the big winners among Altcoins.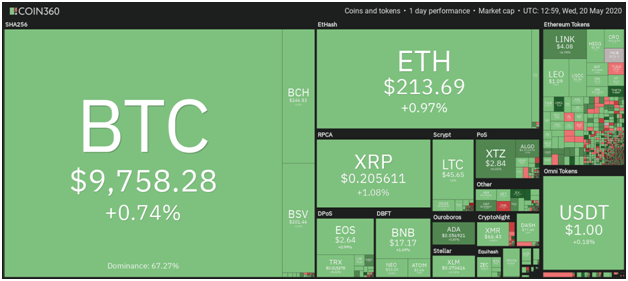 To date, Chainlink has gained more than 6.5% in the last 24 hours, seeing its value rise to $ 4.09, bringing its weekly earnings to 12%. Current levels raise Altcoin more than 150% from the current price. The crypto advantage rose to 12th position, with a market value now above $ 1.41 billion. Over $ 421 million in LINK tokens have been traded in the past 24 hours.
Tezos also registered significant gains since yesterday, rising more than 6.1%; seeing its value reach $ 2.85 against the dollar.
The cryptocurrency has now increased by more than 12% on weekly charts and has increased by more than 30% in the past month. With a market value of $ 2.01 billion, more than $ 125 million of the token was traded in one day, with the strong performance potentially coming from the back of Bitcoin Suisse adding the currency to bet.
Tezos is also growing at a time when the French startup Digycode has partnered with more than 10,000 stores in the country to promote the purchase of tokens through gift cards and prepaid vouchers.
Cardano also posted gains, up 6.08%, with most of the day trading at price levels above $ 0.0578. On the weekly charts, Cardano gained more than 11.8%, with a market value of $ 1.48, which now makes it the 11th largest cryptocurrency.
The XRP also gained strength after spending most of the day in the red. Now, it has added 1.39% to its value, with weekly gains of just over 3%.
Ethereum was up 1.2%, trading at $ 213 at the moment, while Bitcoin is still looking to breach $ 9,800 with a late rise as markets open in the U.S.