WebX ticket sales start
CoinPost Co., Ltd., which operates Japan's largest crypto asset (virtual currency) and blockchain media "CoinPost", has started ticket sales for Asia's largest international Web3 conference "WebX" in which the company is involved in planning and operation. i will let you know.
WebX is Asia's largest Web3 conference, gathering promising Web2/Web3 projects, companies, entrepreneurs, investors, developers, etc. from all over the world. The WebX official website has been released in conjunction with this ticket sale.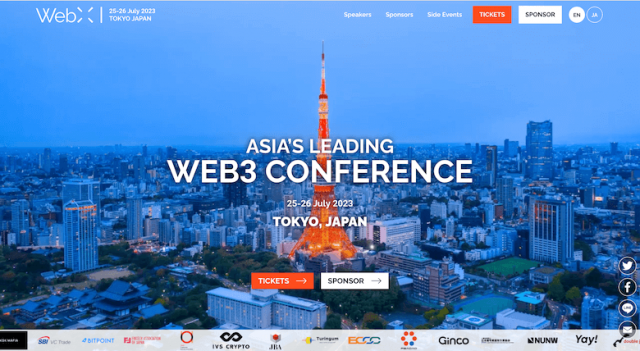 The following four types of tickets will be sold.
Corporate Ticket ($3,500)
VIP ticket ($2,000)
General ticket ($150)
Student ticket ($80)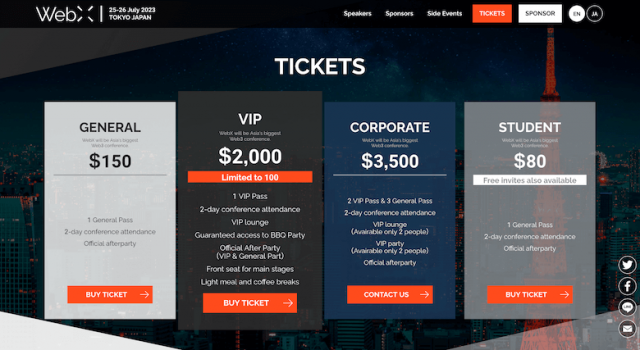 The ticket price is set significantly lower than the ticket price of overseas conferences in order to "get more people to participate in WebX and get interested in Web3". You can purchase it from the WebX official website, and we are currently selling it at a discount, so please purchase it as soon as possible.
ticket description
$2,000 VIP tickets are limited to the first 100. The benefits are as follows.
2 days conference participation
VIP lounge
Guaranteed participation in Japan Web3 Night on Tokyo Bay (BBQ party)
Official After Party (VIP/general)
VIP tag distribution
Interact with speakers and VIP guests
Front row seat arrangement on the main stage
Free snacks and coffee
Use of networking drink reception
Also, the benefits of the $150 General ticket are as follows. Student tickets are intended to allow students to purchase General tickets at a lower price, and offer the same benefits as General tickets.
2 days conference participation
Part 2 Official After Party at Raise
Lastly, there is the $3,500 Corporate ticket, which is purchased for multiple participants from a company. By purchasing in bulk, the price is cheaper. There are 2 VIP tickets and 3 General tickets. Benefits are as follows.
Participate in monthly Web3 seminar
All 7 seminar archive distribution
Web3 industry business report provided
Provide matching system inside and outside WebX venue
For ticket inquiries, please visit the WebX official website or contact info@webx-asia.com.
What is WebX
As mentioned above, WebX is one of the largest Web3 conferences in Asia, gathering promising Web2/Web3 projects, companies, entrepreneurs, investors, and developers from around the world.
Visitors will enjoy performances (simultaneous interpretation in Japanese) by top projects and founders of the Web3 field, networking opportunities, technical workshops by major projects, Web3 hackathons, exhibitions of various companies and projects, and GameFi games. You can participate in the event.
The outline of the conference is as follows.
Date: July 25th (Tue) and 26th (Wed), 2023
Venue: Tokyo International Forum
Organizer: General Incorporated Association WebX Executive Committee
Management/Planning: CoinPost Co., Ltd.
Number of visitors (expected): 15,000 or more
Participating companies (expected): 2,000 or more
Number of exhibitors (expected): 150 or more
Number of media partners (expected): 100 or more
We will also introduce some of the speakers (titles omitted).
Masaaki Taira (Member of the House of Representatives)
Noriyuki Hirosue (CEO, Bitbank Co., Ltd.)
Sota Watanabe (Astar Network/Startale Labs CEO)
Yuzo Kano (CEO of bitFlyer Blockchain Inc.)
Eiji Araki (Director/Senior Executive Officer, GREE Co., Ltd.)
Jeremy Allaire (Circle Co-Founder, Chairman and CEO)
Takeshi Chino (Binance Japan CEO)
Samuel Yim (1inch Network Deputy GC & APAC Director)
Colin Wu (Wu Blockchain Founder)
Ryan Zarick, LayerZero Labs CTO
Charles d'Haussy (CEO, dYdX Foundation)
Salman Banaei (Uniswap Labs Global Head of Policy)
Emi Yoshikawa (Ripple VP, Strategy & Operations)
Next, we will introduce some of the sponsor companies. In addition to the following, many companies are participating. Please check the official website for details.
Bitbank Co., Ltd.
NEROCHAIN ​​PTE. LTD.
SBI Holdings Co., Ltd.
chiliz
Ripple
In addition to WebX, we plan to hold multiple side events limited to ticket purchasers. Details can be found on the official website, but we will introduce the events that are scheduled to be held.
Japan Web3 Night on Tokyo Bay (BBQ Party) (July 24, 2023, 17:30-21:00)
WebX VVIP Party (Limited Dinner) (July 25, 2023, 17:30-20:00)
WebX VVIP Party (buffet) (July 25, 2023, 20:00-22:30)
WebX VIP Party (July 26th, 2023, 18:30~21:00)
WebX After Party (July 26, 2023, 21:00-3:00)
[WebX: Web3 Conference]
Official website open, early discount ticket sales start🎫

Click here for details: https://t.co/b1fBoWTL0o

HP: https://t.co/PSqT26w2TK
Date: 25-26 July 2023
Venue: Tokyo International Forum
Twitter: https://t.co/2ZvVmd4j87#Web3 #BTC https://t.co/vqnLpbShks

— CoinPost Virtual currency media[WebX held in July](@coin_post) March 29, 2023