Long-term holders of Bitcoin (BTC) have seen the price of the largest cryptocurrency fall and diverge from the continued rise of Wall Street's tech stock index, the Nasdaq. Increasing token holdings.
Research firm Glassnode's Long-Term Holders Net Position Change Index, which tracks 30-day changes in BTC in and out of exchange wallets that tend to hold the coin for six months or more, was positive in early April. , and has surged in the last four weeks.
The image above shows this accumulation happening at its fastest pace since October 2021. This suggests that investors are viewing Bitcoin's recent weakness as a classic bull market breather.
"Long-term BTC holders are adding to their positions, suggesting that investors are seeing the recent pause in price action as an opportunity to get more," said the cryptocurrency investment platform. Q9 Capital said in an email referring to the surge in the net position change indicator.
Glassnode defines long-term holders as wallets that hold coins for at least 155 days without selling or moving them.
Bitcoin surpassed $31,000 on April 14, hitting its highest since June 2022 according to CoinDesk data. Since then, Bitcoin has fallen 12% to $27,500, while the Nasdaq has risen more than 2% since mid-April. The Nasdaq/S&P 500 ratio, which Bitcoin has followed closely in the past, has also risen more than 2% during that period.
The divergence is a concern for Bitcoin bulls, according to Markus Thielen, head of research and strategy at crypto services provider Matrixport.
"The fact that bitcoin should be above $30,000 right now in relation to tech stocks (Nasdaq) and it's not is a cautionary tale for any short-term trader," said Thielen, a client. said in a note to "This decoupling indicates the potential for greater divergence to begin between the two."
"Many equity investors expected a US recession to be imminent, but were disappointed to see tech stocks continue to rise. Those short positions need to be covered. Unfortunately, Bitcoin does not have large open shorts that could be squeezed, so there could be a divergence between the Nasdaq and Bitcoin," Thielen added.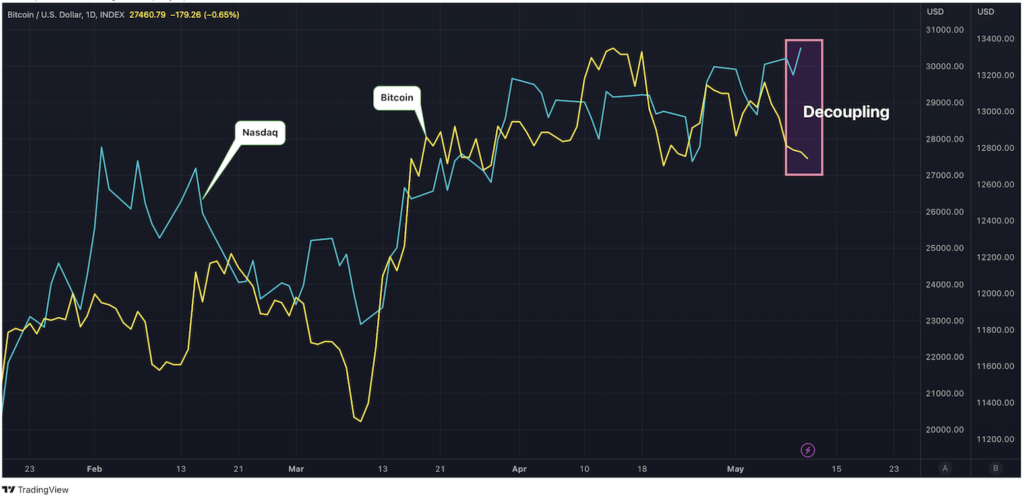 |Translation: coindesk JAPAN
|Editing: Toshihiko Inoue
| Image: Glassnode
|Original: Long-Term Bitcoin Holders Boost Their Stash as BTC Prices Decouple From Nasdaq