Macroeconomics and financial markets
In the US NY stock market on the day, the Dow Jones Industrial Average fell 38 dollars (0.1%) from the previous day, and the Nasdaq Index closed 102 points (0.8%) lower.
Negotiations between Democratic President Biden and Republican House Speaker McCarthy on the "debt ceiling issue" ended in parallel, and no agreement was reached. At the earliest, there is a risk of default on US Treasury bonds as early as next month.
In response, Treasury Secretary Yellen has sounded the alarm, saying, "If the negotiations drag out to the last minute, it could shake the credibility of the United States." If short-term borrowing costs rise and credit ratings are downgraded, there is a risk that it will spread to the global economy and have a serious impact on private companies such as banks, which are suffering from financial instability.
connection:Stock investment recommended for cryptocurrency investors, representative cryptocurrency stocks of Japan and the United States "10 selections"
Virtual currency market
In the crypto asset (virtual currency) market, Bitcoin fell 0.67% from the previous day to $27,148.
The price continued to struggle in a narrow range with a 0.96% decline from the previous week and a 1.38% decline from the previous month.
On the positive side, Hong Kong will allow individual investors to trade crypto assets (virtual currencies) from June this year.
FINALLY the crypto market gets some good news, in the form of Hong Kong's regulatory crypto framework which enters into force on June 1. The big deal is confirmation that retail investors will be able to trade BTC and ETH on licensed platforms.🥡https:/ /t.co/NQboEsx5b5

—Noelle Acheson (@NoelleInMadrid) May 23, 2023
In Hong Kong, which is positioned as a "special administrative region" by China, where even miners have been severely cracked down by a total ban since May 2021, if it is a crypto asset (virtual currency) exchange authorized by the country, bitcoin It is expected that individuals will be able to buy and sell (BTC) and Ethereum (ETH).
In the wake of the FTX bankruptcy and other factors, the U.S. SEC (Securities and Exchange Commission) has turned toward over-regulation, and Hong Kong, which claims to be an international cryptocurrency hub, is gaining momentum. It is one of the reasons web3 investors and operators in the US are turning their attention to the Asian market.
connection:Hong Kong to enforce new rules for virtual currency exchanges from June
On the 22nd, data analysis company Glassnode published a weekly report on market analysis of crypto assets (virtual currencies).
The Bitcoin market was relatively firm last week, with a low of 1 BTC = $26,600 and a high of $27,500, in a narrow range of ±3.4%. In addition to the declining interest of market participants, the decline in liquidity due to the withdrawal of US market makers due to the tightening of regulations by the US SEC (Securities and Exchange Commission) is also considered to be the background.
On-chain indicators, on the other hand, suggest that most of the supply of Bitcoin (market circulation) remains dormant in investors' wallets without being traded for a long period of time. Several key "age groups" showing years of ownership hit all-time highs.
Realized Cap is the total market cap of all unspent transaction outputs (UTXOs) in Bitcoin. A metric that calculates value based on the price of the last transfer, rather than the current value or value at the time of purchase.
This makes it possible to represent the realization wins of all Bitcoins in the network instead of the market value, so the impact of coins that cannot be retrieved due to the loss of the "private key" or coins that have been dormant for a long time is reduced and more Weighting of realistic property values ​​can be achieved.
For example, the Realized Cap of Bitcoin, which was used in 2009 when it first launched and is now lost, is a dimension that counts as an economic value equal to zero.
When the normal market cap (market price x supply) trades above the realized market cap, there is overall profit for market participants, and vice versa can historically be a bottom signal. There are only a few periods when market capitalization has remained below realized market capitalization, and in past examples, it has functioned as an accumulation of bear market troughs.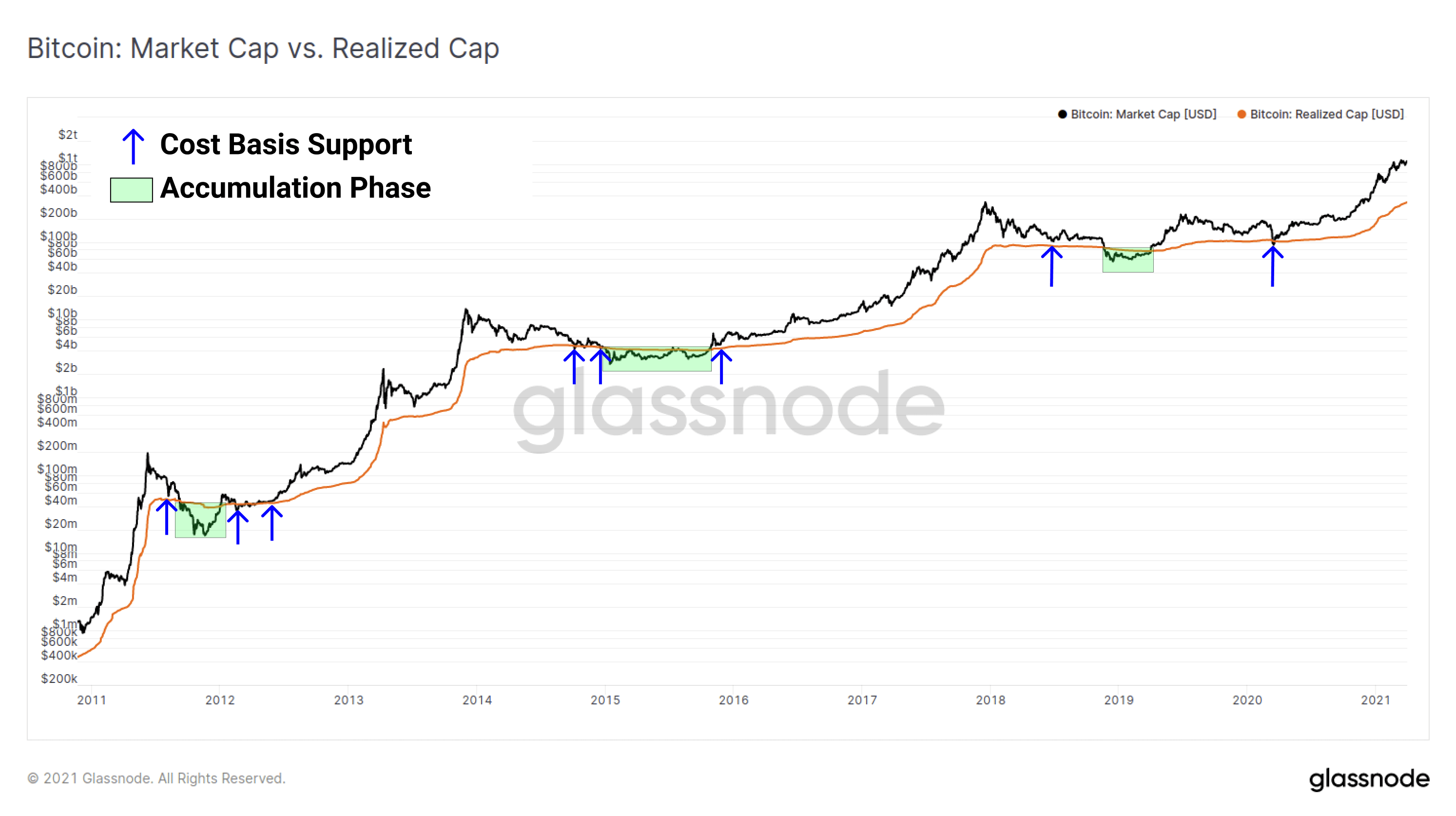 HODL Waves are broken down by Bitcoin holding period. The holding amount for each period of "less than 1 year, 1 to 2 years, 2 to 3 years" is shown, and it is used as a tool to visualize the behavioral patterns and long-term investment trends of Bitcoin holders. be done.
The exchange's weekly trading volume dropped significantly from its peak of about $4.2 billion in May 2021 to $343.4 million (-91.8%) in May 2023 data.
While the market is sluggish, wallets classified as long-term holders (LTH) for 155 days or more have accelerated their accumulation over the past few weeks, currently holding 14.46 million BTC.
connection:Countdown to the next Bitcoin half-life less than a year away, market trends and expert predictions?
Click here for a list of market reports published in the past
[Recruitment]Recruitment of new personnel due to Web3 business expansion

Japan's largest cryptocurrency media CoinPost is looking for full-time employees and interns as it expands its Web3 business.

1. Media Business (Editorial Department)
2. Marketing operations
3. Conference management and launch work
4. Open Position (students welcome)

Details https://t.co/UsJp3v8mSH pic.twitter.com/B98JZmoQbW

— CoinPost-virtual currency information site-[app delivery](@coin_post) February 14, 2023