On July 7, Bitcoin (BTC) rallied and Asian stocks fell. Investors waited for data on US nonfarm payrolls after an ADP report on Monday showed private sector employment in the world's largest economy beat expectations.
The top cryptocurrency by market capitalization climbed nearly 1% to $30,300, recouping some of Friday's losses. The MSCI stock index, which consists of stocks in the Asia-Pacific region excluding Japan, expanded its decline in the previous session to a five-week low.
Elsewhere, gold rose to $1,914 an ounce, while 10-year Treasury yields fell 0.06 percentage points to 4.02% from a four-month high on Thursday. The Dollar Index, which shows the dollar's strength against major currencies, narrowed its overnight losses near 103.00.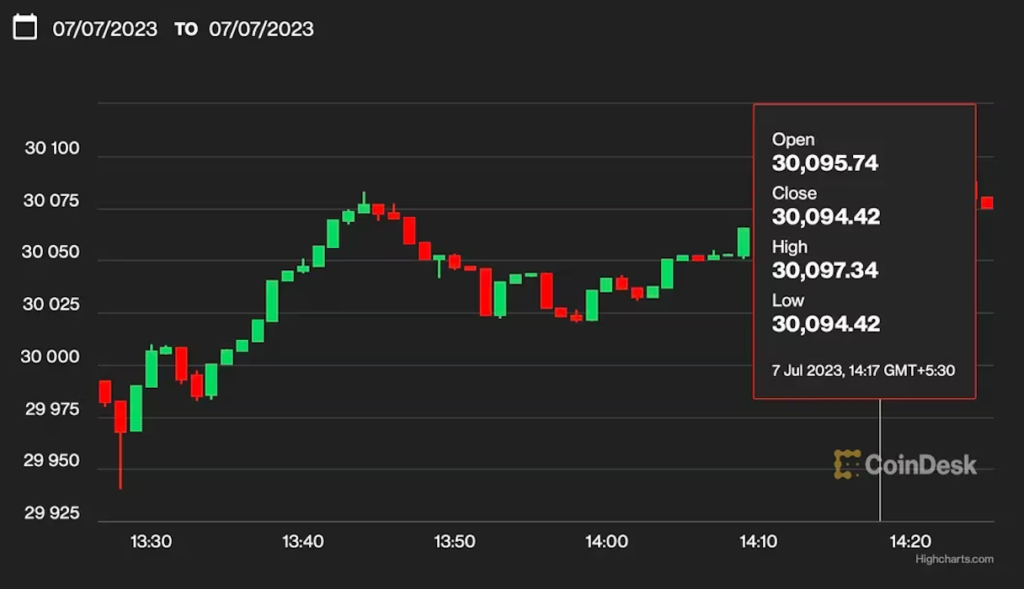 The U.S. Bureau of Labor Statistics releases its nonfarm payrolls (NFP) for June at 12:30 UTC. FactSet consensus forecasts see 205,000 jobs added last month, following 339,000 in May and 294,000 in April.
The unemployment rate probably fell to 3.6% from 3.7%, and average hourly wages are expected to rise by 0.3%, the same rate as May's growth.
what is woven
Traders see an 89% chance that the US Federal Reserve (Fed) will raise interest rates by 0.25% at the end of the month, placing it in the 5.25%-5.5% range. This is slightly lower than the 94% that received the ADP and ISM services PMI released on the 6th.
Traders also put a 50% chance of another 0.25% rate hike later this year.
ForexLive currency analyst Adam Button said in a Market Update, "If you were to extrapolate what the market is really going to set the baseline for, a rate hike to 5.25% to 5.50% and then about 10%. It has to stay that way for months," he said.
Market impact
With hawkish expectations already building, a slight deviation from the headline data for NFP and wage growth could return positive moods to risk assets, including crypto.
It will also be interesting to see how the government bond yield curve reacts to this number. If the yield curve starts to invert, risky assets could fall. Historically, an inversion of the yield curve signals the arrival of a recession.
An inverted yield curve is when yields on longer-term bonds fall below those on shorter-term bonds.
Keep an eye on the yield curve 'de-inverting'. We're now getting close. The day that happens after an inversion, the countdown to recession starts in earnest: average of 4 months and median of 2 months.

— David Rosenberg (@EconguyRosie) March 15, 2023
|Translation: CoinDesk JAPAN
|Editing: Toshihiko Inoue
| Image: CoinDesk/Highcharts.com
|Original: Bitcoin Retakes $30K, Asian Stocks Hit 5-Week Low Ahead of US Jobs Report