BlackRock's spot Bitcoin exchange-traded fund (ETF) application in June brought new optimism to the cryptocurrency market, boosting the price of Bitcoin (BTC) and related investment vehicles.
Still, bitcoin-related perpetual futures market traders are still risk averse and reluctant to use high leverage.
According to data tracked by Glassnode and Blockware Solutions, the ratio of BTC perpetual futures open interest to Bitcoin market cap has remained in a narrow range of 1.5% to 1.7% over the past four weeks. The ratio is still well below the high of 2.6% set in September last year.
Analysts at Blockware Solutions said in a July 21 newsletter, "Despite Bitcoin holding above the $30,000 level last month, it shows no change in risk appetite among futures traders."
"The ratio of open interest to market capitalization remains relatively low, meaning spot is likely to continue to drive prices higher in the short to medium term as the supply to long-term holders continues to slowly shrink," the analyst added.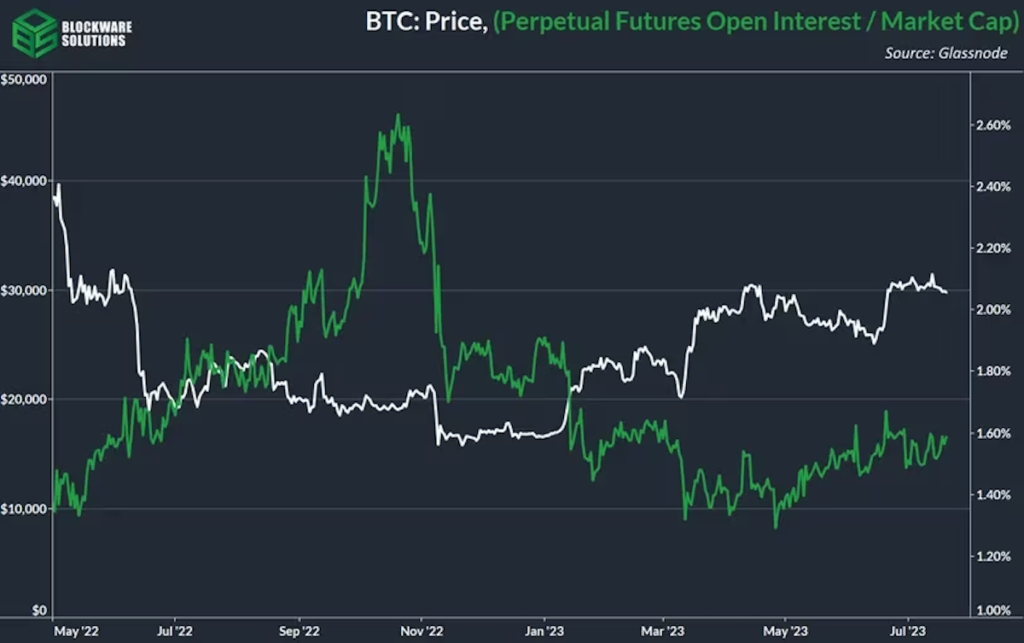 Perhaps traders don't see bitcoin spot ETFs as a game changer, or worry that lingering regulatory uncertainty will hurt market valuations in the short term.
A perpetual futures contract is a futures contract that does not expire. Open interest refers to the dollar value pegged to the number of active contracts.
Leverage allows traders to take positions of greater value than fiat currencies or crypto assets deposited on exchanges as margins. Using leverage can magnify both gains and losses, exposing traders to liquidation, the forced closing of a bullish long position or a bearish short position due to lack of margin. The higher the degree of leverage, the higher the potential for liquidation to introduce volatility into the market.
Another way to track the use of leverage in the market is to divide the open interest by the value of BTC held in the wallet associated with the derivatives exchange wallet. The so-called estimated leverage disseminated by South Korea-based CryptoQuant has been largely stagnant since June 20, indicating that the average trader is playing it safe.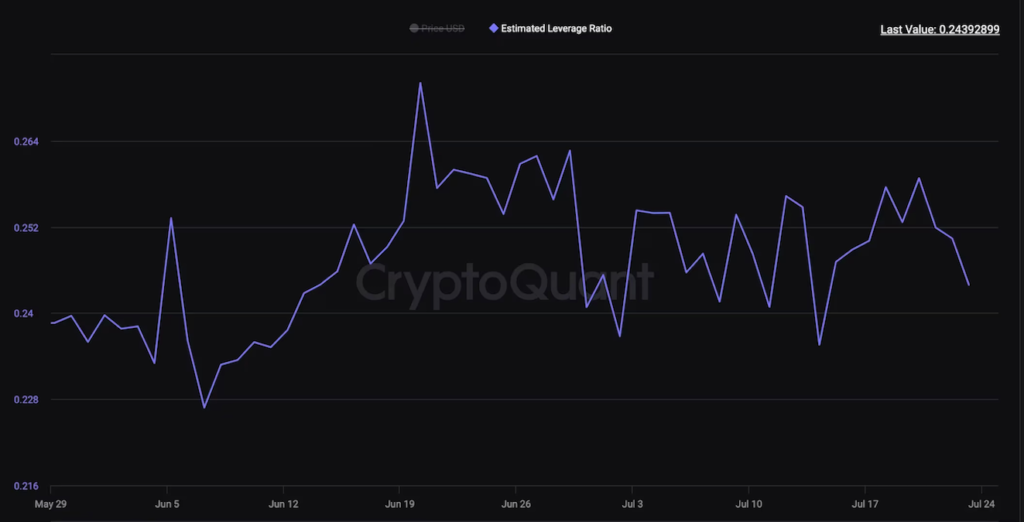 Low leverage in the market means low price volatility. Bitcoin has been slumping in the $29,500 to $32,000 range for the past four weeks. At the time of writing, BTC is trading in the $29,000 range, according to CoinDesk data.
|Translation: CoinDesk JAPAN
|Editing: Toshihiko Inoue
|Image: CryptoQuant
|Original: Bitcoin Traders Cautious Despite Spot ETF Optimism, Leverage Indicators Suggest