US cryptocurrency exchange Coinbase is losing market share in its burgeoning Ethereum (ETH) staking business. That's because U.S. regulators are increasing pressure on the company's staking service.
Ethereum staking is to participate in the approval process of transactions by depositing Ethereum in the network and receive rewards. The upgrade moved the consensus algorithm to Proof of Stake (PoS) and implemented a staking mechanism.
Market share declining amid rising demand
According to a Dune chart compiled by crypto investment firm 21Shares, Coinbase's share of Ethereum staking fell to 9.7%, its lowest level since May 2021. became. This is down significantly from the 13.6% recorded on April 12, when the "Shanghai" upgrade made it possible to withdraw staked Ethereum.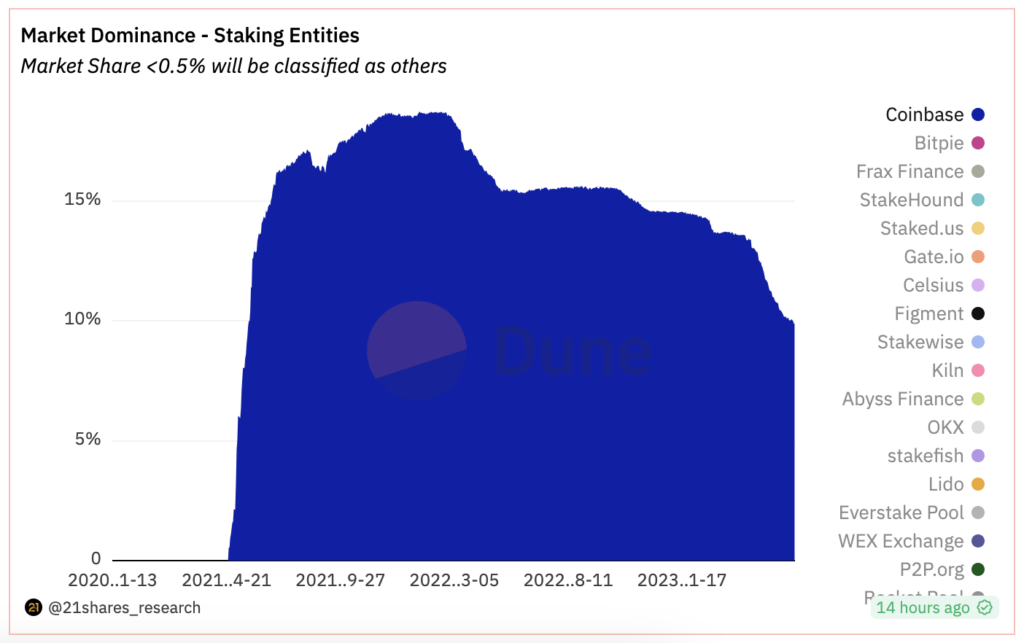 The drop in share comes as demand for Ethereum staking surges. Due to Shanghai, deposits to staking have increased, and the deposit amount exceeds the withdrawal amount by about 3.5 million ETH (about $ 7.3 billion at the current price, about 1.022 trillion yen, converted to 1 dollar 140 yen).
However, Coinbase saw a net outflow of $517 million during the same period. This is second only to rival cryptocurrency exchange Kraken.
Outflow from Coinbase due to SEC lawsuit
21Shares analyst Tom Wan told CoinDesk, "A potential reason is that investors want to expose themselves to regulatory risk by using Coinbase's staking service. It is possible that there is not," he said.
Kraken was sued by the SEC earlier this year and suspended its staking service for U.S. customers as part of the settlement.
On June 6, the SEC also filed a lawsuit against Coinbase, alleging that it violated federal securities laws by providing unregistered securities to users on its staking service. However, Coinbase said it remains committed to maintaining the staking service.
Since filing the lawsuit, Coinbase has withdrawn about 149,300 ETH from Ethereum's proof-of-stake network, but deposited just 52,992 ETH, according to blockchain data compiled by 21Shares. The $183 million worth of net outflow shows users unstaking Ethereum and avoiding Coinbase.
Competitors catch up
Coinbase remains the number two staking service provider in terms of market share, but Dune's chart shows that competitors such as Figment, RocketPool and Kiln are fast growing to close the gap.
Coinbase takes a 25% commission on the rewards users earn through staking, so if staked Ethereum decreases, revenue decreases.
|Translation: coindesk JAPAN
|Editing: Rinan Hayashi
| Image: Dune Analytics/21Shares
|Original: Coinbase Loses Market Share in Ether Staking as Regulatory Pressure Mounts