tokenized economy
A panel discussion on the tokenized economy was held on the 17th at the annual meeting of the World Economic Forum (WEF) "Davos Meeting" held in Davos, Switzerland.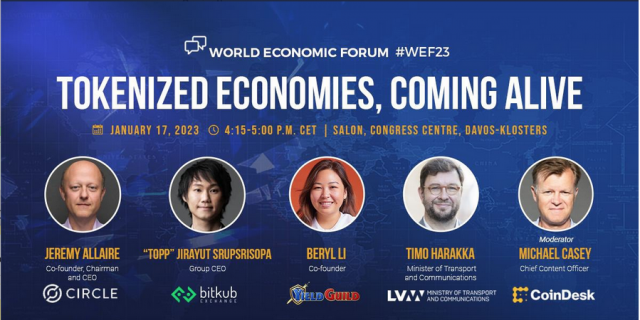 The four panelists are:
Jeremy Allaire: Founder/CEO of USDC Issuing Corporate Circle
Jirayut Srupsrisopa: CEO of Bitkub Capital Group, a Thai cryptocurrency company
Beryl Li: Co-founder of Yield Guild Games (YGG), a Web3 game-related company in the Philippines
Timo Harraka: Finnish Minister of Transport and Communications
Allaire said that while there is a lot of debate about the tokenization of real-world financial assets, the regulation-compliant tokenization of "the US dollar, which is seen as the most important real asset in the world," Claims to be USDC stablecoin. He explained that the company's vision is to bring the benefits of blockchain technology to the US dollar through tokenization, giving the dollar "the mighty power of the internet."
The gaming sector is attracting attention as an example of a tokenized economy. Mr. Li of Yield Guild Games says that P2E (Play-to-Earn) games that utilize NFTs (Non-Fungible Tokens) are a model case, and in-game assets have already been exchanged for local currency and other "real world" games. It is pointed out that there is a trend to exchange for "assets of
He looked forward to what kind of possibilities the world's Web2 game population of about 3 billion will bring in the future.
Mr. Srupsrisopa mentioned Thailand's leadership in tokenization. A wholesale central bank digital currency (CBDC) is expected to be introduced in the first quarter of this year. He also added that the Thai government is working with the Monetary Authority of Singapore (MAS) to transfer money between the two countries using Thailand's CBDC.
Additionally, the Thai government is considering introducing a license for "investment tokens" separate from the current cryptocurrency license. The investment token is expected to include government bonds, carbon credit trading, foreign exchange and electricity units. Srupsrisopa explained that the Thai government's move is a sign that "tokenization will be the cornerstone of the future digital economy."
Finnish Minister Harraka pointed out that the general public still tends to be skeptical about "tokenization = virtual currency". He said transparency and identification and building public trust were important. Also, looking at the state of current games and entertainment, the boundaries between the real world and the real world are becoming ambiguous, such as virtual participation rather than actual face-to-face games, so the boundaries of what is subject to regulation are also becoming ambiguous. I raised the issue.
Regulatory efforts required
Mr. Allaire explained how token regulations should be, comparing them with Internet regulations. Blockchain can be seen as a new operating system layer (foundation layer) on the Internet, and does not need financial regulation, but digital asset products should be regulated. However, as Mr. Harraka points out, there are a wide variety of applications built on the base layer, and it may be ambiguous whether they are subject to regulation.
In doing so, he argued, "it will require a great deal of effort on the part of regulators," just as it did when creating the framework for Internet regulation. Specifically, he mentioned that each item subject to regulation should be clearly defined and systematized, and a new regulatory framework should be created. Panelists noted that while authorities try to apply existing regulations, new technologies and concepts are creating a backlash.
What to tokenize next
Allaire said that loyalty points given to regular customers of well-known brands are likely to be tokenized in the future. Currently, each brand has its own development, but we proposed to change the point system to a blockchain platform and change it from a closed loop to an open system that can interoperate with other brands.
On the other hand, there are also challenges in promoting tokenization. Self-custody, in which tokens (assets, personal information, IDs, etc.) are managed by oneself, breaking away from centralized systems, is ideal, but currently, the high technical and knowledge hurdles for users are obstacles. ing.
Allaire said venture capital has been eyeing and investing in next-generation technology projects that facilitate self-custody.