According to charting platform TradingView, Bitcoin is likely to see its first golden cross since September 2021 within two weeks—here's a digest of this week's top news.
Ethereum (ETH) turned into deflation two weeks ago, posting negative net additions for the first time in over a month.
According to ultrasound.money, the net supply or annual inflation rate of Ethereum, the second-largest cryptocurrency by asset value, fell below zero on January 15, to -0.01% at press time. The data shows that this leading smart contract blockchain burns more coins than it mints, in contrast to Bitcoin (BTC).
Fantom, a platform that brings smart contract technology to market, plans to introduce version 2 of its fUSD stablecoin to provide builders, partners and users with a predictable and budget-friendly system. the developer said in a post over the weekend. A release date has not been revealed.
Bitcoin's (BTC) rally that started a month ago seems to have hit a wall this week, ending its momentum near a key resistance line. And a similar pattern emerged in the Hang Seng Index, the benchmark for the Hong Kong market.
As a result, some observers believe there may be a resurgence of risk aversion across financial markets.
"The failure of BTC and Hansen is a technical sign that the calm atmosphere of early 2022 may not last all year," said trader and president of Spectra Markets Brent Donnelly. ) said in a memo sent to customers late on the night of January 30.
Crypto-assets (virtual currency) funds saw net inflows of $117 million last week, the largest inflows in six months.
According to data released by CoinShares on January 30, investor funds mainly flowed into Bitcoin (BTC)-related funds, accounting for the majority of the inflow, $116 million. Bitcoin has been on an upward trend since the beginning of the year, and is currently up about 40%.
Twitter is working on a payment system. Elon Musk wants a system for fiat currencies for now, but eventually he wants to support crypto assets, the Financial Times (FT) said on Jan. 30. reported.
ForN announced on January 30 that YGG Japan, a blockchain game platformer with which the company has a partnership, has completed a private round of funding worth approximately 400 million yen. The incubation round was completed last summer, and YGG Japan's cumulative funding amount is said to be about 750 million yen.
Hong Kong's top financial regulator announced on January 31 that Hong Kong will require stablecoin issuers to obtain licenses and will not allow algorithmic stablecoins. Once the regulation is implemented, operators operating stablecoin services in Hong Kong will need a license.
The Hong Kong Monetary Authority (HKMA) has set out its regulatory plans after receiving feedback on a discussion paper it released last year. Based on the 58 responses, we will build a system to supervise stablecoins, which are crypto assets (virtual currencies) whose value is fixed to other assets such as the US dollar.
British crypto asset (virtual currency) exchange Archax has received regulatory approval and launched digital asset custody services as institutional investors step up their business to restore confidence in the crypto asset sector.
London-based Archax's new custody business is one of the few services that has cleared the high hurdles that the Financial Conduct Authority (FCA) has imposed on companies dealing with crypto assets. According to Archax, all stored assets will be completely separate from the exchange. This means that if the trading business fails, the assets in custody are not subject to bankruptcy proceedings.
Indiana-based blockchain company SIMBA Chain, which has been working on various projects with the U.S. military in recent years, received a $30 million funding round.
According to a January 31 United States Air Force (USAF) announcement, the military has invested $30 million in Simba as part of its objective of "identifying and advancing technologies that could secure future dominance." Approved the Strategic Financing Increase (STRATFI).
Decentralized social media startup Nostr has launched a Twitter-like app called Damus on Apple's App Store.
Former Twitter CEO Jack Dorsey, who last year donated about 14 bitcoins (equivalent to about $245,000 at the time) to fund Nostr's development, said on January 31 that Damus' App Store debut was an "open protocol mile. Stone," he praised. As of this writing, the tweet has been viewed 2.1 million times.
Game-focused blockchain Oasys announced on January 31 that it has decided to list its OAS token on the bitbank cryptocurrency exchange.
Five overseas crypto asset exchanges started handling OAS tokens in December last year, but this is the first listing on a Japanese crypto asset exchange.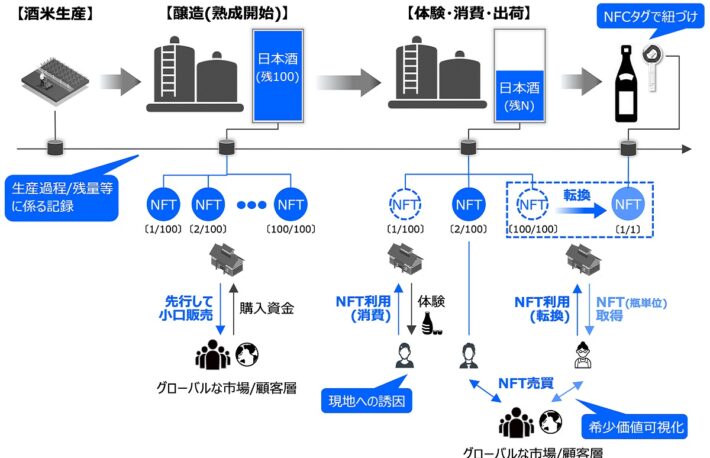 On January 31, Mitsubishi UFJ Trust and Banking Corporation and SBI Traceability Co., Ltd. announced that they will be able to clearly link individual products at the "Digital Asset Co-Creation Consortium (DCC)" sponsored by Mitsubishi UFJ Trust and Banking. We will set up a "Sake Token Working Group (WG)" aiming to create a foundation for "Traceable NFT" that can clearly indicate that it is ", and to issue a "Sake Token" for the purpose of solving problems in the sake industry, and will start considering it. Announced.
The bitcoin (BTC) market at the end of last year was quiet at the $16,000 level, partly due to the effects of consecutive holidays, but it was supported by the rise in the solana (SOL) and litecoin (LTC) markets at the beginning of the year. When the price remained firm, the slowdown in wage growth in December's US employment statistics was positively received, and the price climbed to the $17,000 level. This accelerated expectations of a decline in the U.S. Consumer Price Index (CPI) in December, and bitcoin's price moved further and tried to top $18,000.
The Bitcoin market has suddenly turned around since the new year, but the focus of the FOMC in February will be whether the rate hike by the Fed will be reduced, the rate hike will be halted at 5%, and the speculation that the rate will be cut within the year will be justified.
After a slump in 2022, the cryptocurrency market rose in January, with the crypto that fell the most last year gaining the most among the 160 crypto assets in the CoinDesk Market Index (CMI), which shows the performance of the market as a whole. bottom.
Layer 1 blockchain Aptos cryptocurrency Apts (APT) rose 387% in January, the highest among CMIs.
Metaverse-related tokens significantly outperformed Bitcoin (BTC) in January.
Many smaller crypto assets outperformed Bitcoin in the January rally. By comparison, Bitcoin is up about 40% in January and Ethereum (ETH) is up about 30%. Bitcoin has a market capitalization of $446 billion (about 58 trillion yen) and Decentraland has a market capitalization of $1.3 billion (about 170 billion yen).
If you've been looking at crypto-related tweets, you've likely seen some investors tweeting that they held on to Bitcoin (BTC) during last year's bear market. In fact, there is evidence of that.
Bitcoin's 'HODL Waves' metric, produced by Unchain Capital and tracked by Glassnode, shows unused transaction outlets (UTXOs) older than five years up by 17% over the past six months.
The HODL Waves index is an index that represents the distribution of elapsed years of UTXO. UTXO represents Bitcoin left over after a transaction. In other words, the age of UTXO indicates when Bitcoin last moved.
BNB Chain, the blockchain network of the crypto asset (virtual currency) exchange Binance, released a white paper on its new distributed data storage system "BNB Greenfield" on February 1.
According to the whitepaper, the developer communities of Amazon Web Services, NodeReal and Blockdaemon are aiming to launch a BNB Greenfield testnet in the coming months.
On February 1st, the NFT marketplace "coinbase NFT", which is operated by the major crypto asset (virtual currency) trading company Coinbase, temporarily suspended the drop of creators (new public offering of NFTs) in order to focus on other aspects. said there is.
"We communicated that we are pausing creator drops on the NFT Marketplace to focus on other features and tools that creators want. Just to be clear, we are not shutting down Coinbase NFT." Tweet from the same marketplace)
Hakuhodo Keithley announced on February 1 that it will hold a web3 global hackathon from February 14 to March 25, co-sponsored by Toyota Motor Corporation.
The theme of the hackathon is "development of DAO support tools for in-house projects", with the aim of creating new business efficiency services using blockchain with web3 engineers around the world. The event will be held in Astar Network's Metaverse "COZMINE" and can be attended from all over the world. The total prize pool is $100,000.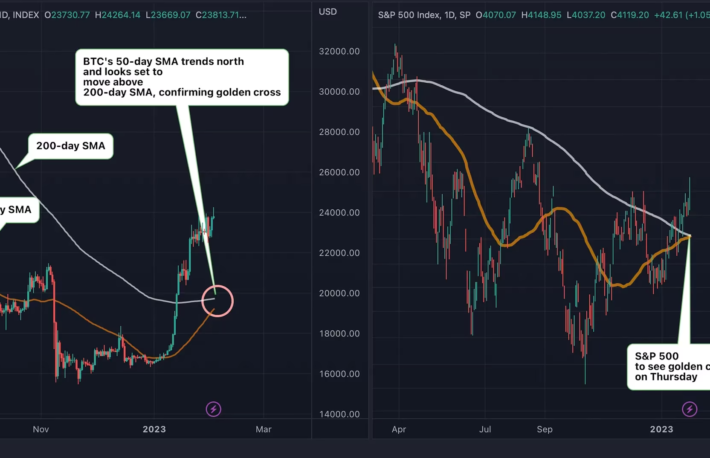 Bitcoin (BTC) and the Wall Street stock index S&P 500 are on the verge of a golden cross, a bullish technical signal that often sends traders into jubilation.
A golden cross is when price's 50-day Simple Moving Average (SMA) breaks above the 200-day SMA and forms a cross on the chart. Moving averages are not leading indicators, so this signal only suggests that the market's short-term rally has outpaced its long-term rally. However, chart analysts and traders see this signal as a harbinger of long-term price gains.
According to Nansen's data, the wallet of Alameda Research, an affiliate of bankrupt crypto exchange FTX, was stolen from exchange Bitfinex's hot wallet by $6 million overnight. Approximately 773 million yen) worth of Tether (Tether / USDT) was received.
The wallet appears to have liquidated its assets in line with bankruptcy proceedings and has also received $4.5 million worth of USD Coins (USDC) from an unknown entity, totaling over the last 24 hours. It became 10.5 million dollars (about 1.353 billion yen).
Bitcoin mining giant Marathon Digital sold 1,500 bitcoins (BTC) in January. This is the company's first bitcoin sale.
The company said in a release on Feb. 2 that the decision was made to cover some of the spending.
"As bitcoin mining volumes continue to increase, we have made the strategic decision to sell a portion of our bitcoin as previously planned to help cover our operating and general expenses," said the company's chairman and CEO. CEO Fred Thiel said in a release. The company currently holds about 11,418 bitcoins.
Bitcoin is currently significantly lower in price than it was in the second half of 2021. Still, the mood in the market is as positive as it was then.
Bitcoin perpetual futures funding rates on major cryptocurrency exchanges, including Binance, stood at 8.491% as of Thursday, according to data from blockchain analytics firm Glassnode. It was the highest since December 3rd.
|Text and editing: coindesk JAPAN editorial department
|Image: Shutterstock