A bet made five years ago on the future of crypto assets. It feels like a story from a completely different era.
The bet, announced at CoinDesk's Consensus conference in 2018, had a deadline of May 2023. 2018 is before the "DeFi Summer" of 2020, when DeFi (decentralized finance) products exploded on the Ethereum blockchain. Of course, that was before the huge bull market that collapsed in 2022, and long before the bankruptcies of FTX, Terra, Celsius, and others.
But it is not entirely unimportant. The content of the bet between two giants on opposite ends of the crypto world, Bitcoin maximalist Jimmy Song and Ethereum co-founder Joseph Lubin, The winner says a lot about the current state of the cryptocurrency industry, which is recovering from last year's devastation, and the prospects for mainstream adoption.
Will significant decentralized applications emerge?
After Song said on stage at Consensus in 2018 that there won't be any significant decentralized applications in five years, Rubin bet "how much" that Song was wrong. He said he didn't mind. After that, more specific content of the bet was set.
For Rubin to win, five or more applications developed on the Ethereum blockchain must have 10,000 daily active users, 10,000 daily active users, and 10,000 daily active users for at least six months in a 12-month period ending May 23, 2023. It was necessary to maintain 100,000 people on a monthly basis. A daily active user was defined as an on-chain transaction made by a single Ethereum address.
So, in Song's words, some Ethereum applications needed to get as many users as the minimally successful Android or iPhone apps.
The bet was officially established with a handshake between the two.
So who won?
2 answers after 5 years
"I don't know because you didn't clarify the definition," Song told CoinDesk last week. Rubin also didn't say who he thinks won.
👀 The Bitcoin vs. Ethereum bet between @jimmysong and @ethereumJoseph ends tomorrow!
Did you guys ever settle on an arbitrator? https://t.co/UWkI3w9SXp

— Brady Dale (@BradyDale) May 22, 2023
"Jimmy Son and Joseph Rubin's Bitcoin vs Ethereum bet ends tomorrow!
Was the arbitrator decided? "
Both Song and Rubin may have vague memories of the original agreement, but CoinDesk tried to determine who won based on the terms that were publicly available.
According to two blockchain data companies — Artemis and Nansen — five decentralized apps (Dapps) have met the bare minimum for Rubin's victory in the last five years. was However, it may be debatable whether these five are Dapps.
So if Rubin won, it was a narrow victory, not a sweeping one. And some may conclude that he lost.
This result is counterintuitive given the buzz around Dapp development during the last bull market that pushed the Ethereum ecosystem's Total Value Locked (TVL) to over $100 billion in November 2021. I agree. According to DappRadar, there are currently over 140,000 Dapps on Ethereum. Most of them are small.
"I think the results show that the industry is immature," said Laura Shin, who had both of them as guests on her podcast shortly after the bet.
Outlook five years ago
Five years ago when the bet was made, Ethereum's major innovation of so-called "programmable money", a blockchain that acts as a platform for smart contracts that automatically do things in a decentralized way, is still out there. was immature. Song was also unsure of the future of Ethereum.
"Even if by some miracle a popular Dapp appears, a centralized platform could develop a version that is much cheaper, faster, scalable, easier to manage and upgrade, and completely beat the original Dapp. ," Song told Consensus in 2019.
Rubin also said at the time:
"Jimmy[Song]argued that there would be no large-scale, important applications on the blockchain, and that the only meaningful blockchain would be Bitcoin. "I think it's great. And there are limited use cases on Bitcoin, which is great. We love Bitcoin, but we also think decentralized applications are really useful."
If the terms were met, Song would pay Rubin 81.08 ETH. If Song won, he was to pay 69.74 BTC. Both were worth $500,000 at the time, but in today's dollar terms, Rubin's $1.5 million (approximately 210 million yen, converted to 140 yen to the dollar), and Song's $1.9 million (approximately 266 million). 10,000 yen).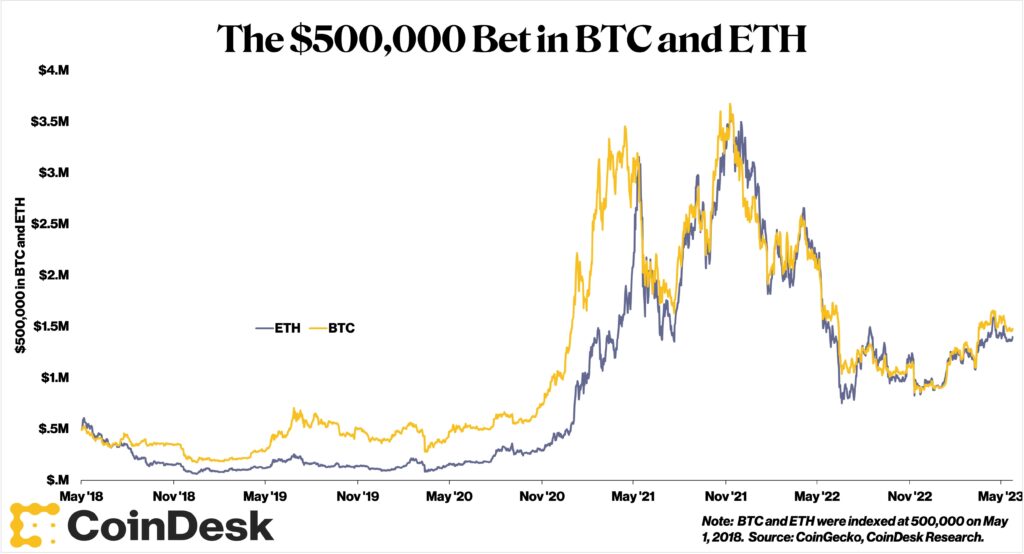 Result judgment
According to Artemis and Nansen, the applications that surpassed both 10,000 daily active users and 100,000 monthly active users in the period set by the bet were Circle, OpenSea, Tether, and Uni. Swap (Uniswap) and wrapped Ether (wrapped ETH: WETH) were five.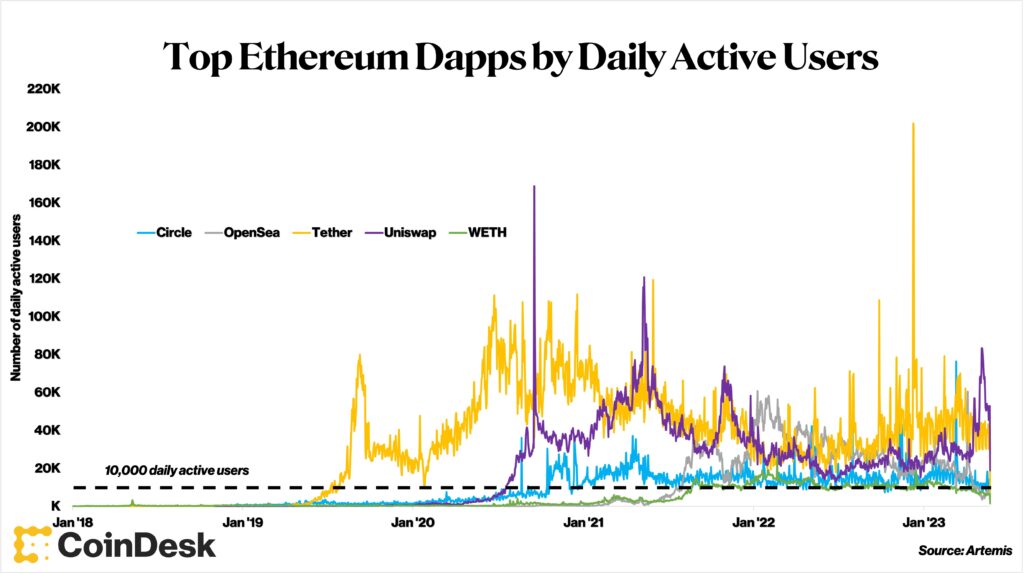 MakerDAO, 0x, Gnosis Safe, Chainlink, MetaMask, and 1inch had more than 100,000 monthly active users, but less than 10,000 daily active users.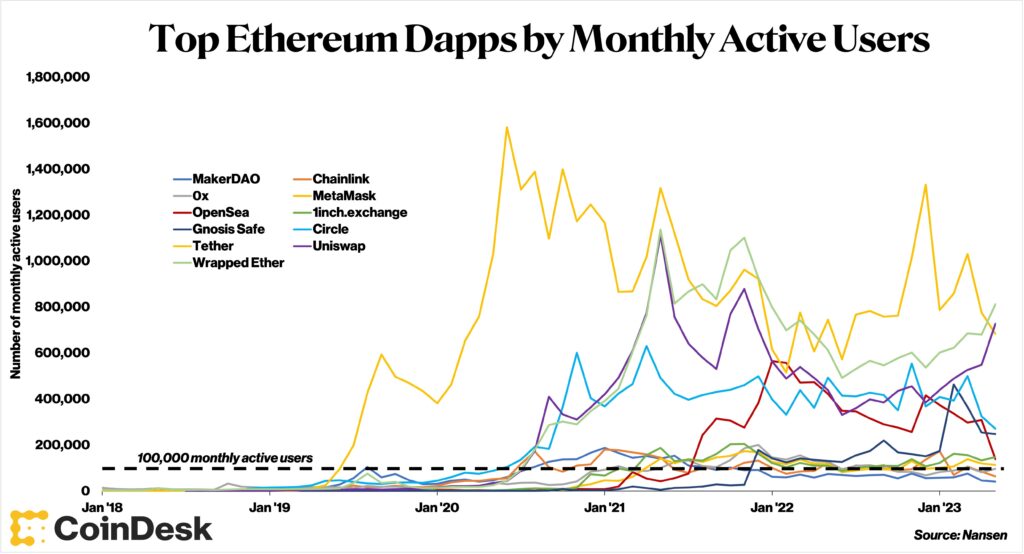 But before declaring Rubin's victory, let's not forget that the crypto community is divided on what a Dapp is.
What are Dapps?
"I don't think of WETH as an application. WETH is an ERC-20 token standard that runs Ethereum transactions on Dapps," said Mind Apivessa, co-founder of Station Labs. It's used to make it easier," he said.
Lindsey Winder, CEO of Hedgey Finance, similarly asked:
"A smart contract is not a Dapp by default…. My idea of ​​a Dapp is an interface that allows you to interact with a smart contract without code. If I use a service like Uniswap to wrap Ethereum If you wrap or unwrap Ethereum, you're using a Dapp, but if you wrap and unwrap Ethereum directly with a smart contract, you're not using a Dapp."
Neither Circle nor Tether are Dapps, according to Nansen data journalist Martin Lee.
"I don't think anyone would call Circle, OpenSea, and Tether Dapps, so Jimmy[Song]seems to win," said podcaster Laura Singh. But eventually, he continued, there could be enough Dapps to meet the criteria for this bet.
Artemis COO Jimmy Zheng believes all five are Dapps, saying:
"Fundamentally, the definition of an application is a contract, given that the actual smallest unit within a blockchain platform is a smart contract that other contracts and addresses can interact with. From that perspective, WETH, open They are Dapps in the sense that there are a number of addresses/contracts that interact with applications like Sea, Circle, Tether, etc."
Apibessa does not consider wrapped ETH to be an application, but acknowledged that "WETH makes Ethereum compatible with specific applications, so it cannot be classified as an application."
epilogue
The overarching theme that Song threw at the bet was whether there could be significant applications on the Ethereum network. And indeed, it is clear that some such applications exist.
Looking at Artemis and Nansen's daily and monthly active users, we can see that there are many popular applications on Ethereum that do not meet the wagering criteria.
Rubin said in 2019 that the ecosystem would be fine even if it didn't have the active users it was betting against.
"Even if I lose the bet, Ethereum could be very powerful," Rubin said.
Regardless of who wins the bet, the long-standing rivalry between the two big blockchains appears to be far from over.
|Translation and editing: Akiko Yamaguchi, Takayuki Masuda
|Image: Joseph Rubin (left) and Jimmy Song (CoinDesk)
|Original: 5 Years After the $500K Ethereum Wager Between Joe Lubin and Jimmy Song, Who Won?