Who is the smartest in the cryptocurrency industry? How are those people spending their capital?
"Smart money", though not a precise definition, is a term that describes a class of investors and traders, often those who have an advantage in trading for the simple reason that they have access to abundant capital. Point.
People with a lot of capital have a lot of resources and therefore can withstand a lot of loss. As such, smaller (retail) investors want to know how to spend their "smart money," i.e. where to invest.
However, it seems that "smart money" is not always smart.
In 1998, PhD-run Long Term Capital needed $3.6 billion in bailouts due to excessive leverage and poor trading.
A decade later, in the 2008 financial crisis, the smartest people in the industry still needed help from the federal government to make up for their trading losses.
And in the crypto world, the failures of FTX, Alameda Research and Three Arrows Capital last year showed that some of the smartest people in the industry had made a catastrophic mistake.
Significance of Focusing on Smart Money
So, is there any point in referring to trends in "smart money"?
Definitely yes. Your overall investment theme should be your own, but observing how your capital behaves can be informative. With the exception of outright frauds, it always makes sense to check smart money movements (so-called big capital flows).
Even if you have a solid investment theme, it's possible that the results will be disappointing. Unexpected events may change the situation. What matters, though, is how much a large investor can move markets just by its mere presence.
Like big luxury liners, big capital flows often take a lot with them, even when they're headed for an iceberg. Knowing the direction your ship is heading in advance will give you a clue as to how likely you are to face a disaster and how much life jackets you will need.
whale movement
In the crypto world, many online tools provide real-time information about money movements. These tools are a unique feature of crypto assets.
Tools vary by asset. For Bitcoin (BTC), one of the options is "whale activity". A whale is a unique wallet address that holds more than 1000 BTC.
1,000 seems like an arbitrary number, but given that it's currently valued at about $28 million, and peaked at nearly $70 million, it's a good enough indicator for some kind of investment.
Of particular note is the decline in whale numbers over the last two years.
After peaking at 2157 in February 2021, whale numbers are down 22%. Bitcoin fell 41% over the same period.
It's also worth noting where the whales are moving the coins. Are whales moving coins to exchanges? Or are you moving the coins from the exchange somewhere? Generally speaking, the former indicates bearish sentiment while the latter indicates bullish sentiment.
Recently, Bitcoin has moved to exchanges. Net inflows from whales to exchanges have been positive since October 2022.
These two indicators show that big investors are cautious. Whale numbers are dwindling, and the remaining whales are ready to sell bitcoin. Whales can be wrong, but it's worth knowing what they do.
Trends in smart money in altcoins
Ethereum (ETH) and other altcoin tools provide more information. Platforms like Nansen and Arkham Intelligence classify wallets as "smart money" based on their capital and investment behavior, allowing them to see activity in real time.
The three cryptocurrencies that have seen massive inflows into "smart money" wallets in the last 30 days are staked Ethereum (stETH), Aave's interest-bearing USDT, and Binance USD (BUSD).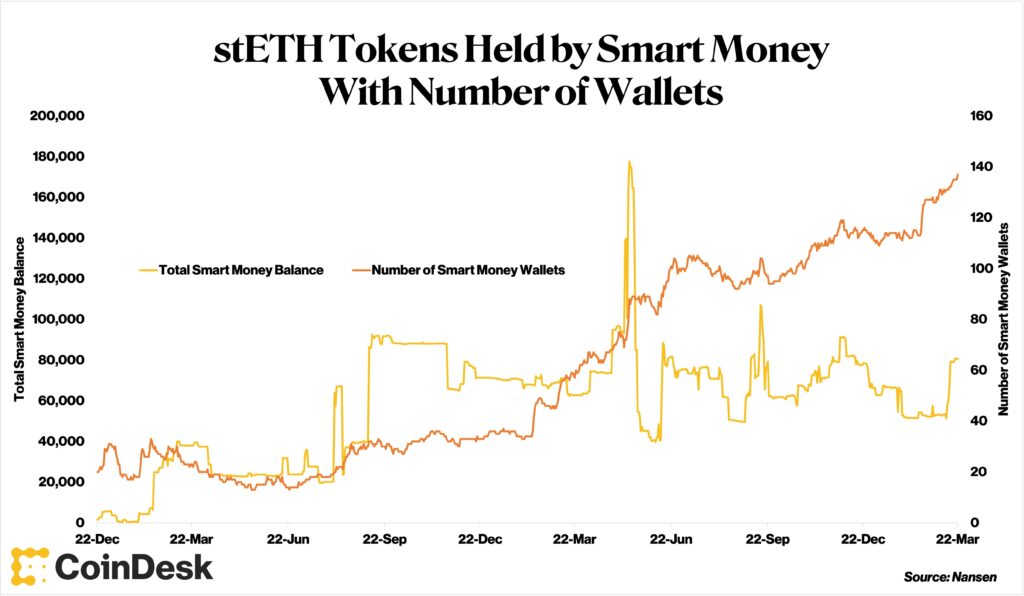 Looking at individual whale assets, one whale holds the most crypto asset, Uniswap's governance token UNI. This is different from other whales.
A closer look reveals that the whale acquired UNI more than a year ago. Since then, there has been little on-chain activity. Two years ago, UNI was $32, now it's $6.
Continuing to hold the asset even if it falls this much means that the holders have long-term beliefs in the coin itself, want to participate in the governance of Uniswap, or cut losses if UNI rises. indicates that it may be
Improve the quality of investment decisions
Checking smart money may not give an easy answer, but at least investors can check the possibilities and make an informed decision.
Other noteworthy recent smart money movements include:
Big wallets withdrew Wrapped Ether (WETH) from exchanges, while depositing Tether (USDT), Chainlink (LINK) and Wrapped Bitcoin (WBTC).
Over the last seven days, smart money wallet holdings of stablecoins USD Coin (USDC) and USDT have fallen by 4% and 27%, respectively. WETH held by smart money wallets increased by 12% during the same period.
Bitcoin net inflows from whales to exchanges are positive, but have been trending downward since February.
Identifying and analyzing smart money movements can take hours and cannot be fully covered in one article. However, investors who take the time to do their analysis will be able to improve the quality of their crypto research.
To use an analogy to the world of traditional finance (TradFi), it's like real-time streaming of hedge fund stock position reports. It's hard to keep looking, but it's also hard to look away.
Whether or not your investment decisions are profitable, it's useful to think about when you first started investing.
|Translation and editing: Akiko Yamaguchi, Takayuki Masuda
| Image: Sage Young/CoinDesk
|Original: 'Smart Money' Tools Reveal Where Crypto Capital Is Moving