On May 18, coindesk JAPAN and btokyo members, one of the leading communities in Japan thinking about the future of Web3 and digital assets, held a conference titled "Consensus 2023 report meeting ─ Corporate entry into Web3, regulations (Japan attracting global attention), AI and blockchain." , RWA tokenization, NFT and DAO" was held online.
After being held online twice during the COVID-19 pandemic, it will be held in Austin, Texas this year following 2022, where developers, business people, investors, VCs, and regulators will gather and exchange opinions. "Consensus by CoinDesk 2023" was an opportunity.
At the debriefing session, Mr. Hosho Karasawa of Accenture picked up the themes that were attracting attention locally. Mr. Ryosuke Ushida of the Financial Services Agency and Mr. Sota Watanabe, CEO of Astar Network Founder/Startale Labs, who took the stage at "Why Japan Is Embracing Crypto" on the theme of efforts and trends in Japan, looked back on the local discussions.
Yuki Kamimoto, CEO of N.Avenue/coindesk JAPAN, who also participated in the event, acted as moderator.
Mr. Karasawa picked up the following six themes.
Enterprise is taking main stage
Regulation is necessary but how is an issue
GenAI is the best friend of web3
The line of virtual and real is blurring once more
Stop talking about NFTs and DAOs
It's time to restart post-Lehman innovation
Let's look at each in turn.
1. Enterprise is taking main stage
Mr. Karasawa raised the first theme, "Large companies are coming to the main stage." Last year, there were few scenes where large companies talked about Web3, but this year, various large companies introduced their own Web3 initiatives.
As more specific topics, the following four points were explained.
Evolution, not revolution
Customer Loyalty 3.0
Customer-centric culture
Blockchain still a "problem"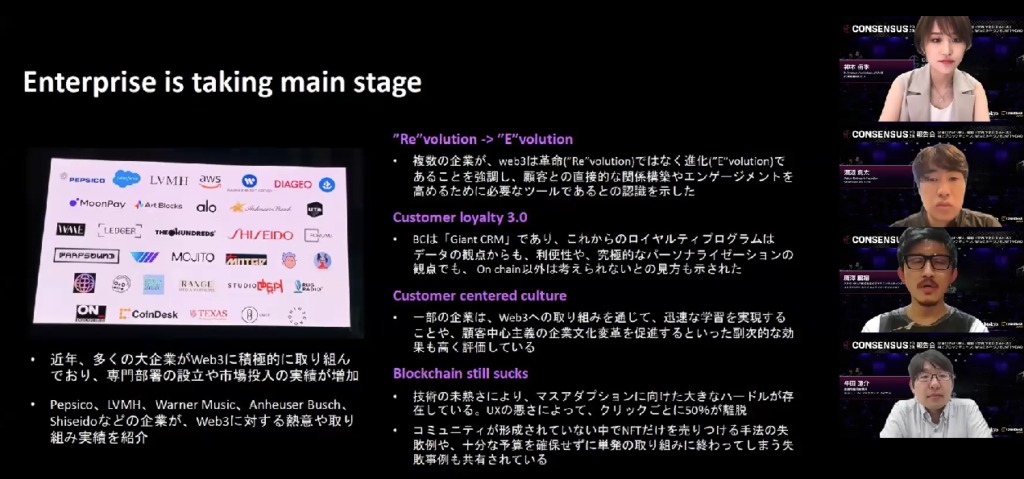 ● Evolution, not revolution
Web3, which is decentralized and decentralized, is often considered to be in conflict with large companies, but instead, it is seen as an indispensable tool for companies to create businesses in the future. indicate. In that sense, many companies now see Web3 as an "evolution" rather than a "revolution."
●Customer Loyalty 3.0
In the United States, there is a growing movement to use Web3 technology for customer loyalty programs. Some people call blockchain a "Giant CRM." In other words, Web3 is seen as a technology that evolves customer loyalty, and Karasawa called this movement "customer loyalty 3.0."
●Customer-centric culture
On the other hand, he said that results were of course important, but there was also a view that working on Web3 had become indispensable from the "customer-centric culture".
● Blockchain is still a "problem"
Furthermore, he pointed out that there are still many issues and problems that need to be solved for blockchain, and that the technical aspect is a hurdle for its spread.
In response to Mr. Karasawa's summary, Mr. Ushida of the Financial Services Agency expected Consensus to be "more sparkly", but many down-to-earth business operators and solution providers participated. As one of the regulators, he said he had a favorable impression.
Watanabe points out that the third "crypto-asset winter" is currently approaching, but the big difference this time is that large companies are entering the crypto-asset industry. If the past two "winters" were ice ages, many people said they were talking about "warm winters" this time.
Mr. Karasawa recalls that many of the large companies that have entered the market were those that deal in consumer brands and daily necessities. At first, luxury brands were prominent in entering Web3, but now they are major beverage companies. PepsiCo, Anheuser-Busch InBev and others are actively working on Web3, he said, and Web3 is gaining more citizenship.
2.Regulation is necessary but how is an issue
The second theme is about "regulation", which is an urgent issue for the crypto asset industry in the United States.
It is said that not only large companies, but also startups, have expressed the opinion that rather than rejecting regulations, they should establish correct regulatory methods and principles. At that time, he also pointed out that it is impossible for regulations to catch up with the speed of product evolution, and that predictability is important instead of seeking clarity in regulations.
Mr. Ushida pointed out that it is important to find a balance between regulation and innovation. Regarding the current situation in Japan, he said that Japan has regulations in place, including user protection. In addition, other countries are in the phase of tightening regulations, but Japan will not change its regulations significantly in the future, and said that the stability of regulations will be an advantage.
Mr. Watanabe urged attention to the increasing activity in China and Hong Kong, although this is certainly a tailwind for Japan.
3.GenAI is the best friend of web3
The third theme is generative AI and Web3.
Mr. Karasawa says that since the cryptocurrency market has entered winter and the topic of generative AI has become a hot topic, there is a view that Web3 may be on the decline, but Consensus considers generative AI to be a theme that is compatible with Web3. pointed out. More specifically,
Web3 is a "trust" layer for generative AI
Generative AI Solves Web3 Complexity
Generative AI Transparency
I gave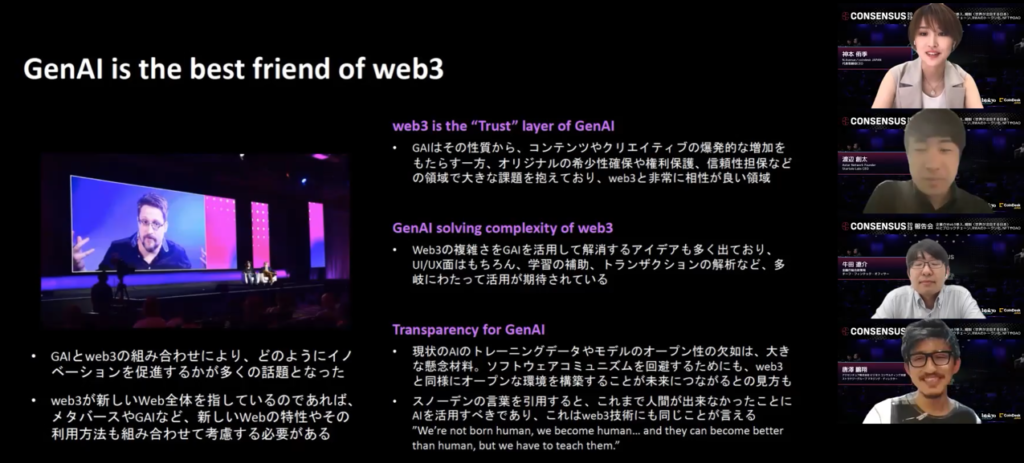 ● Web3 is the "trust" layer of generative AI
In the future, it is expected that content will be created explosively by generative AI. said.
Generative AI solves Web3 complexity
On the other hand, Web3 has aspects such as transaction analysis that are complicated and have poor usability.
Generated AI transparency
In addition, it is not clear what the generative AI is using as training data, and there are cases that have led to copyright lawsuits, so Web3 technology will be used to bring transparency to the generative AI. said he would.
Mr. Watanabe said that it takes time to truly change the world, and pointed out that OpenAI, which is currently a hot topic, was established in 2014. Mr. Karasawa responded to this, saying that Web3 is still "young" as a technology for AI that has been researched for decades, and that "there is still a long way to go."
Mr. Ushida said that from the standpoint of regulators, regardless of what kind of technology it is, they are focused on whether businesses and services realized using technology are good for users and whether there are risks. He said there is still no killer app for blockchain use cases and that he is hopeful for the future.
4.The line of virtual and real is blurring once more
The fourth theme is the resurgence of the topic of security tokens and the tokenization of Real World Assets, which was popular several years ago.
Mr. Karasawa said that speculation on tokens alone cannot be expected to spread to the general public, and that it is important to tie them to real-world values.
Mr. Ushida acknowledged that "DeFi (decentralized finance) and TradiFi (traditional finance) are getting closer," and with regard to security tokens, Japan has advanced legislation, and both the primary and secondary markets are expected to be active in the future. He said work would continue.
Mr. Watanabe pointed out that Web3 is still poorly connected to the real world, and that things created in Web3 are being run in Web3. He said that the strengths of an enterprise (large company) should come into play when connecting with the real world.
5.Stop talking about NFTs and DAOs
Fifth, about NFT and DAO.
Mr. Karasawa reported that the discussion on NFT and DAO itself has decreased. NFTs and DAOs are tools to the last, and the debate has shifted to how to use them. Especially with NFTs, there is no talk that NFT art was traded at a high price, and what kind of utility can be provided to holders. Ka said that it was the main theme.
Mr. Watanabe pointed out that the DAO discussion will be influenced by the market environment. He said a bear market might call for strong leadership rather than a DAO-like move.
Regarding DAO, Ushida said that participating in the community in the hope that the governance token would rise would be less sustainable.
6.It's time to restart post-Lehman innovation
The final theme was the general content that I felt through Consensus.
Mr. Karasawa points out that the growing distrust of the existing financial system, such as the progress of inflation and bank failures in the United States, is similar to the time of the Lehman Shock. He said that the social paradigm shift and technology will come together as a set, and the world will change dramatically.
Mr. Watanabe said, "America's stagnation is an opportunity for Asia."
Mr. Ushida points out that while the Internet took a long time to commercialize, cryptocurrency funds flowed in from an early stage. . Consensus said that some operators said that now, on the contrary, there is less noise and it is easier to proceed with business and development.
---
At the "Consensus 2023 debriefing session", Mr. Karasawa accurately summarized the various contents, and Mr. Ushida and Mr. Watanabe talked about their real impressions they felt at the site and what they always think about with an awareness of issues.
The contents introduced here are only a part. If you would like to check Mr. Karasawa's slides and the real remarks of the three people for yourself, please register as a "btokyo members" (free) and check the archive.
|Text: btokyo members
| Editing: coindesk JAPAN
|Image: N.Avenue