Bitcoin price cycle analysis
Pantera Capital (Pantera), a major U.S. crypto asset (virtual currency) fund, said in a letter to investors in February this year that the cryptocurrency market had bottomed out and entered the next bull market cycle. showed that.
Over the long-term, Bitcoin price has been in a secular uptrend of 2.3x annually over the past twelve years, on average.

I believe we will see blockchain assets continue this trend soon.

February investor letter: https://t.co/ZObb9MrTyc pic.twitter.com/dSiJ5hyEfO

—Dan Morehead (@dan_pantera) February 13, 2023
Looking at the long term, the Bitcoin price has been on a long-term upward trend, averaging 2.3x per year for the past 12 years. I think it is close to starting to show this trend.
Pantera analyzes past bear market trends. We compared its duration and rate of price decline to the recent (November 2021 to November 2022) bear market.
Median duration: 307 days
Recent duration: 376 days
Median drop rate: -73%
Recent drop: -77%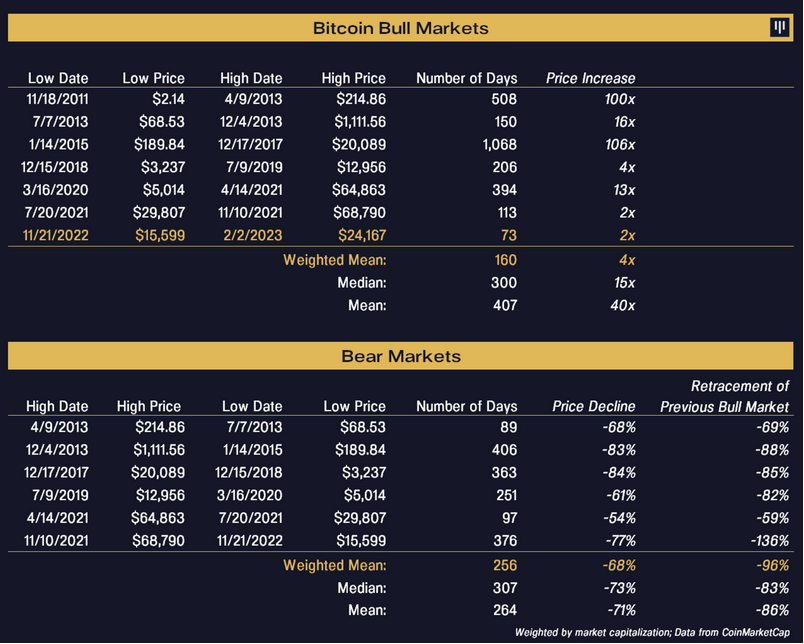 Pantera noted that the recent cycle was the only bear market of its kind in history that completely wiped out the previous bull market rally. But now that bear market is over and the stock is aiming for the next high, he argues. He sees it as the start of a "seventh bull market" after the last six bear markets.
Outlook for 2023
Pantera looks back on 2022 as a challenging year for the cryptocurrency market. The reason for this is that "malicious players circumvented boundaries in jurisdictions with no clear regulations," considering Three Arrows Capital (3AC) and FTX, which were involved in excessive leverage and fraudulent activities. indicate. He believes that if 2022 is "the year of breaking the rules and failing", 2023 will be "the year of following the rules and enjoying the rewards".
Centralized institutions such as exchanges (CeFi) emphasized that it is vital to first try to restore trust. By building trust with customers and working with regulators to develop a clear framework, he said, market share can be gained.
Pantera claims decentralized finance (DeFi) will play a role as CeFi rebuilds trust. By acting as a front for users to use DeFi, DeFi will become a powerful tool for differentiation and customer acquisition for CeFi companies, he said.
As specific examples, Pantera cited US Coinbase and "Liquid Collective," a DAO (decentralized autonomous organization) that provides liquid staking.
Users can access the Liquid Collective protocol by logging into their Coinbase account. As such, KYC and anti-money laundering requirements by regulators are already met by having a Coinbase account.
In this way, Pantera said it's a "win-win relationship" for users to use the familiar and trusted CeFi to leverage DeFi on the backend.
Blockchain on the backend
Pantera notes that keeping blockchain on the backend, rather than on the front, makes it easier for ordinary consumers to adopt.
A good example of this is the approach of the popular social media Reddit, which does not mention blockchain or NFTs (non-fungible tokens) at all.
More than 4 million users have created avatar NFTs on Reddit, and Pantera says the key to its success was to intentionally avoid jargon that was "'toxic' and could discourage adoption." It pointed out. Reddit uses the name "digital collectibles" instead of NFTs.
connection:Bitcoin soars to $ 25,000, the background of the rise