The U.S. Securities and Exchange Commission (SEC) filed a lawsuit against cryptocurrency exchange Coinbase on June 6, following Binance on June 5, for violating federal securities laws. , Withdrawals from Coinbase surged on both days.
The surge in withdrawals has now calmed down
Net withdrawals from Coinbase reached $600 million in the last 24 hours, according to data from blockchain analytics firm Nansen. With a total withdrawal of $1.38 billion and a total deposit of $771 million, there was a large surplus of withdrawals. The data does not include Bitcoin (BTC) remittance amounts.
The overdraft occurred after the SEC, the top US regulator, sued Binance and Coinbase in quick succession. Additionally, many US state regulators have accused Coinbase of breaking the law by offering staking rewards under the Earn program.
There were two peaks in withdrawals, according to Nansen data. Net withdrawals reached $450 million within an hour of the announcement of the lawsuit against Binance on the 5th, and have been stable since then. Withdrawals spiked again on the 6th following the lawsuit against Coinbase, but have since calmed down. At the time of this writing, the difference between deposits and withdrawals over the past hour has turned positive.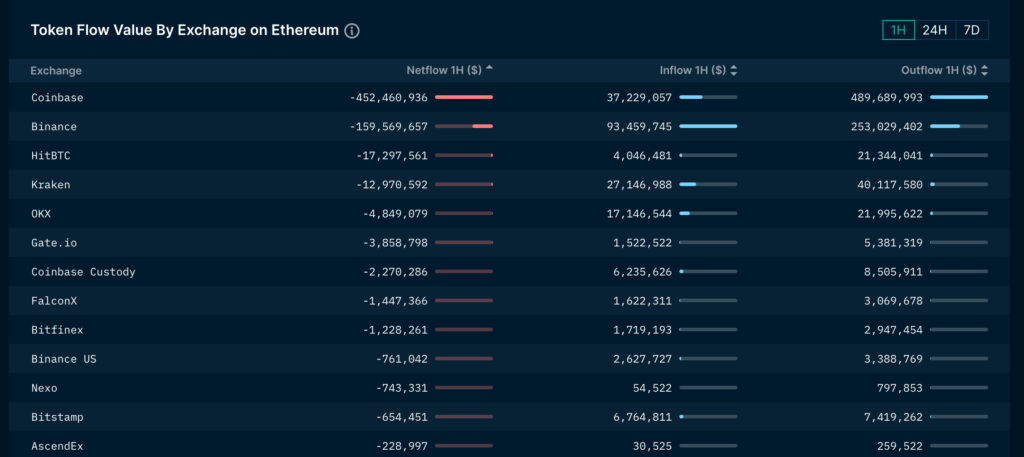 Withdrawal surplus continues on Binance
On the other hand, Binance has seen a further acceleration in the withdrawal flow following the SEC action. Net withdrawals surpassed $700 million on the 5th, according to data compiled by crypto asset manager 21Shares. This is the largest daily net withdrawal since February, when the New York State Department of Financial Services (NYDFS) ordered the suspension of Binance-related stablecoin Binance USD (BUSD). The net withdrawal trend continued for the sixth day, with net withdrawals surpassing $1.2 billion in the last 24 hours, according to Nansen data.
Net withdrawals of this magnitude have occurred in the past during events that have put the cryptocurrency industry under great stress, such as the banking crisis in March and the collapse of cryptocurrency exchange FTX at the end of last year. The FTX bankruptcy has shaken investor confidence in centralized exchanges.
According to data from blockchain research firm Arkham Intelligence, both Binance and Coinbase are processing withdrawals in sequence.
|Translation: coindesk JAPAN
|Editing: Rinan Hayashi
|Image: Nansen
|Original: Coinbase Traders Withdraw $600M in a Day Amid SEC Lawsuits