In this paper, the Bitcoin market is analyzed in 5 stages (5 → 1: Strong → Weak) using six representative technical analyzes: pattern analysis, moving average (9MA/25MA), Ichimoku Kinko Hyo, Bollinger Bands, MACD, and RSI. Evaluate the strength of the market with the average. I believe that fixed-point observation and objectivity are important in technical analysis. The aim is to eliminate arbitrariness and improve accuracy by combining multiple representative analysis methods.
*This article is a reprint of the technical report of "Rakuten Wallet".
summary
The overall score is 4.0 for the third consecutive time. A relatively rare rising flag has appeared, and it is slightly above the upper beard. The possibility of cheating cannot be denied, but the three roles are continuing to turn around, and there is a possibility that a strong upward trend will emerge.
pattern analysis
The pair slightly broke out of the small triangle, but ended up failing and broke below. The possibility of cheating cannot be denied, but theoretically it is a rare form that suggests a breakout of the range. Recently, the price of $28,000 (approximately 3.7 million yen), which expires on March 31, has pulled the stock back into a range, but it looks like it will begin a full-fledged rally once the options are no longer a drag.
Rating: 5
moving average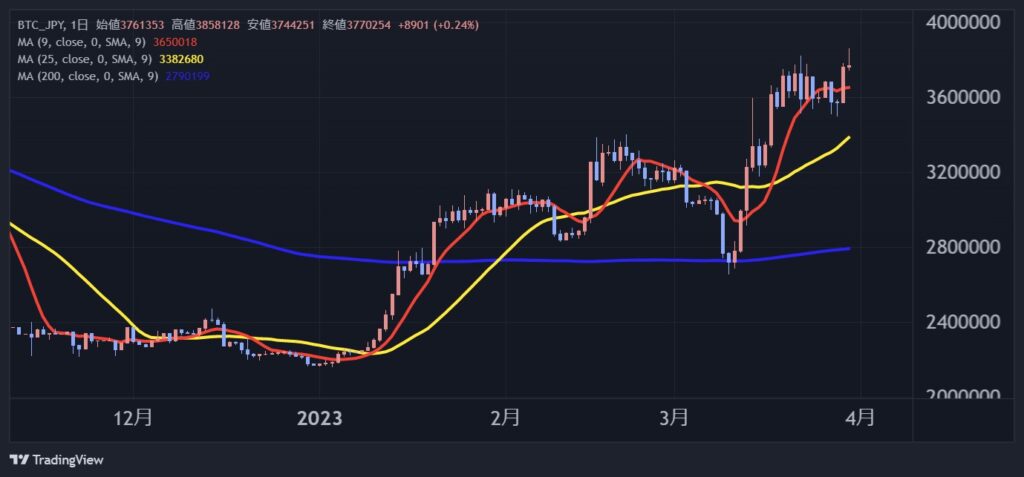 The Golden Cross occurred on March 17th. 9MA's momentum was showing signs of slowing down, but it's starting to turn slightly upward under his feet.
Rating: 4
Ichimoku Kinko Hyo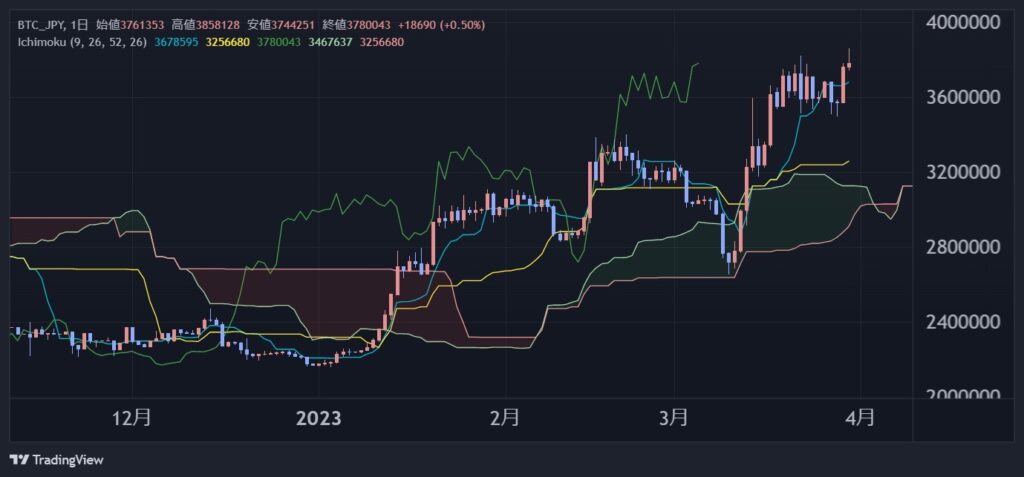 Buying sign of 3-yaku turnaround continues. The base line, which had been flat, is turning upward, and the upward trend continues.
Rating: 5
bollinger bands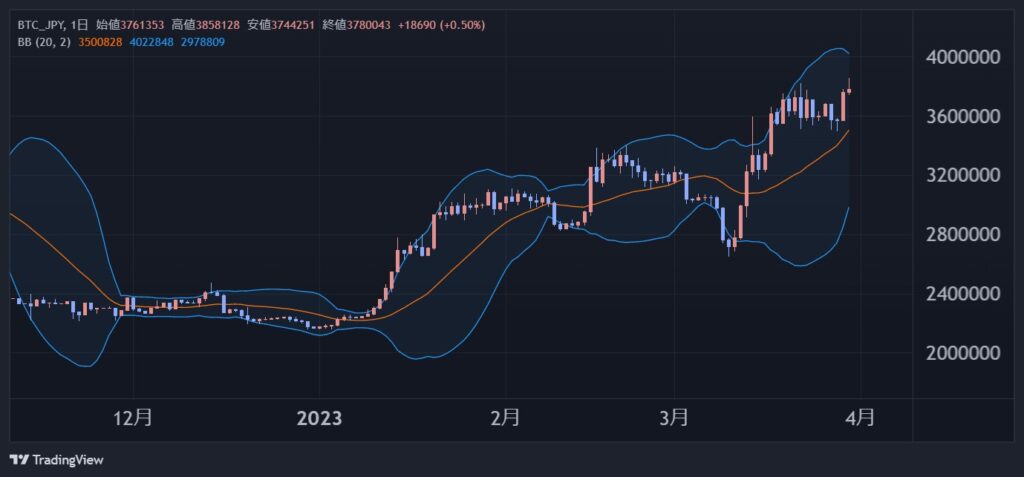 The uptrend continues, but it is losing momentum as it turns from expansion to squeeze.
Rating: 4
MACD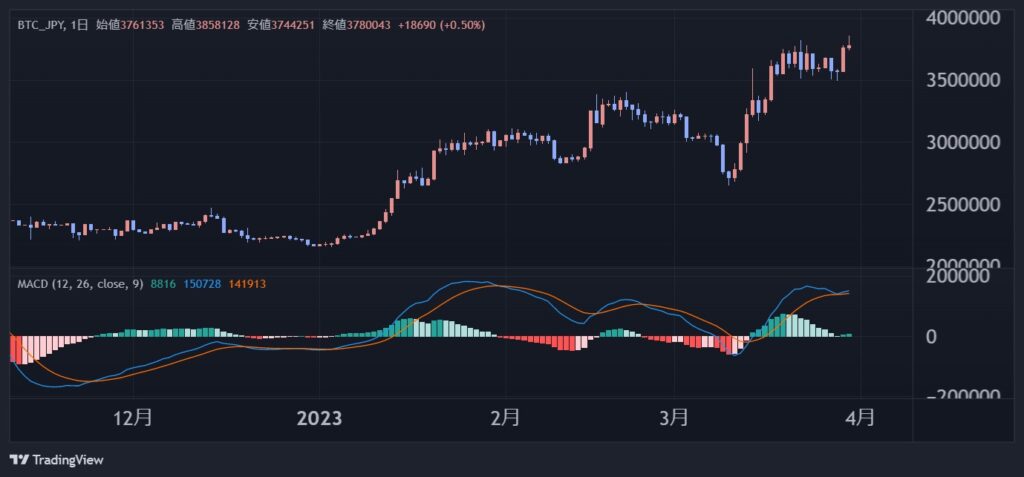 Avoid the occurrence of dead cross somehow. There are no strong signs.
Rating: 3
RSI
Like last time, it has not entered the overbought zone.
Rating: 3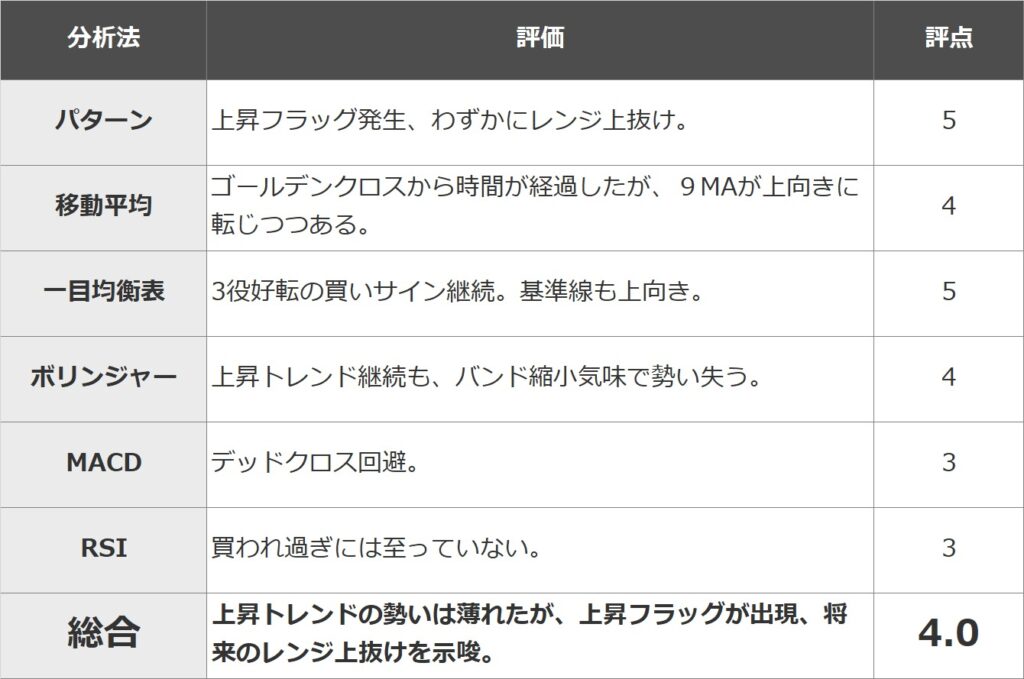 Yasuo Matsuda
Rakuten Wallet Senior Analyst
Majored in the international monetary system at the Faculty of Economics, University of Tokyo. He is engaged in foreign exchange and bond sales and trading at Mitsubishi UFJ Bank and Deutsche Bank Group. Since 2018, she has been engaged in analyzing and forecasting the crypto-asset market at a crypto-asset exchange company, and has almost hit the target of 8 million yen peak in 2021 and 5 million yen at the end of the year. Current position from January 2022.
*This article provides information for reference in making investment decisions, but is not intended to recommend stocks or solicit investment activities. In addition, Rakuten Wallet does not solicit investment or make definitive forecasts.
*The information posted may include future forecasts, but these are the views of the individual sender, and we do not guarantee their accuracy or reliability. Please make your own final investment decisions.
| Editing: coindesk JAPAN
|Image: Rakuten Wallet
|Reprinted from: https://www.rakuten–wallet.co.jp/market/market-list/2023/033002/