In this paper, the Bitcoin market is analyzed in 5 stages (5 → 1: Strong → Weak) using six representative technical analyzes: pattern analysis, moving average (9MA/25MA), Ichimoku Kinko Hyo, Bollinger Bands, MACD, and RSI. Evaluate the strength of the market with the average.
I believe that fixed-point observation and objectivity are important in technical analysis. The aim is to eliminate arbitrariness and improve accuracy by combining multiple representative analysis methods.
*This article is a reprint of the technical report of "Rakuten Wallet".
summary
The overall score is 3.2, barely above the neutral 3. Breaking out of the range and forming a new range, losing the sense of direction, but will the uptrend continue somehow?
pattern analysis

It has broken out of the three-month range of 3.5-4.1 million yen and is forming a new range of 4.25-4.55 million yen. There is not much sense of direction, but if I dare to say, there seems to be room for the price to rise up to around 4.7 million yen, which is double the range of the previous trade.
Rating: 4
moving average

The rise after the golden cross has already been completed, and the 9MA has leveled off and lost its sense of direction. In some cases, there is also the possibility of becoming a dead cross.
Rating: 3
Ichimoku Kinko Hyo
The buying sign of the sanyaku upturn continues to light up.
Rating: 5
bollinger bands

The band squeezed and lost its sense of direction. Neutral near the middle of the band even in the short term.
Rating: 3
MACD

The MACD signal remains flat and there is still the possibility of a fake, but a dead cross has occurred.
Rating: 1
RSI

Returned to 50 units and no sense of direction.
Rating: 3
grade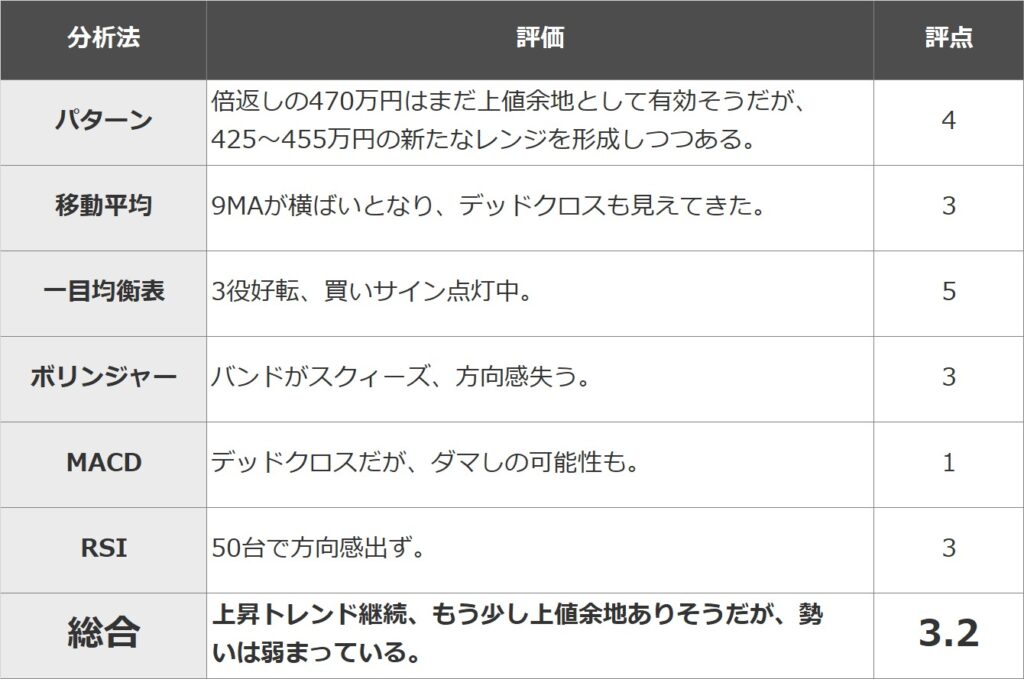 *This article provides information for reference in making investment decisions, but is not intended to recommend stocks or solicit investment activities. In addition, Rakuten Wallet does not solicit investment or make definitive forecasts.
*Information sent may include future forecasts, but this is the opinion of the individual sender, and we do not guarantee its accuracy or reliability. Please make your own final investment decisions.
| Editing: coindesk JAPAN
|Image: Rakuten Wallet
|Reprinted from: Rakuten Wallet