Various troubles surrounding crypto assets (virtual currency), such as the FTX bankruptcy in November and the bank run on crypto-friendly banks in March, cast doubt on the viability of crypto assets.
However, a closer look at the long-term performance of blockchain and crypto-mining companies dispels such doubts. Investment in the industry remains brisk and M&A activity is strong.
This article will focus on two engines in crypto. i.e.
---
■ Blockchain technology companies and exchanges:Bakkt, Block, Coinbase, PayPal
■Crypto asset mining companies:Canaan, Marathon Digital, Riot, Hive
---
Both sectors have performed poorly over the past 12 months compared to the Nasdaq Composite. The chart below shows a sharp decline in market capitalization (with April 2022 set to 100).
another point of view
However, the following should also be taken into consideration.
First, despite their declines, these two crypto-related sectors are now showing a recovery similar to that of the Nasdaq. Mining companies, in particular, have rebounded significantly since the beginning of the year, in line with Bitcoin's (BTC) surge.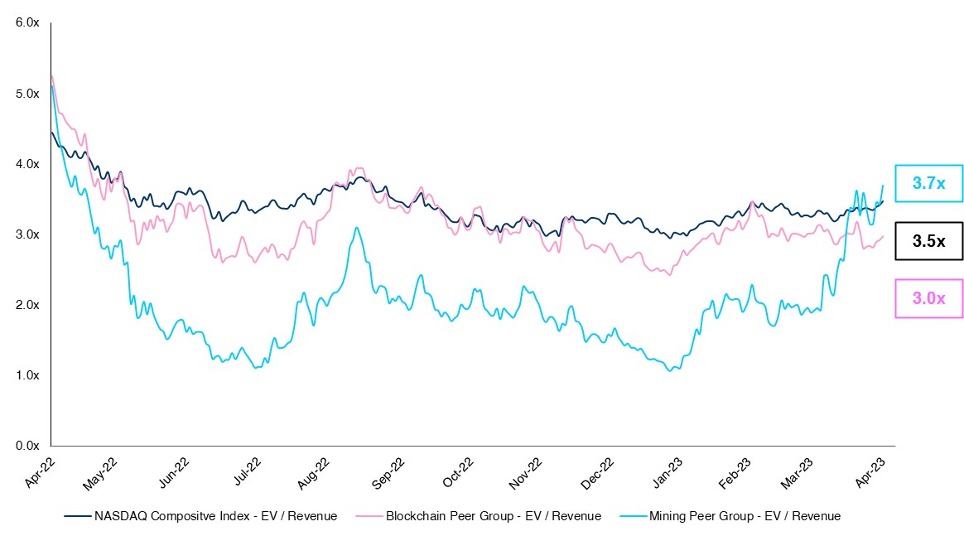 Next, looking at the broader time axis, miners outperformed the Nasdaq from April 2020 to April 2023 (miners up 90%, while Nasdaq up 63%). Blockchain technology companies and exchanges fell 12%.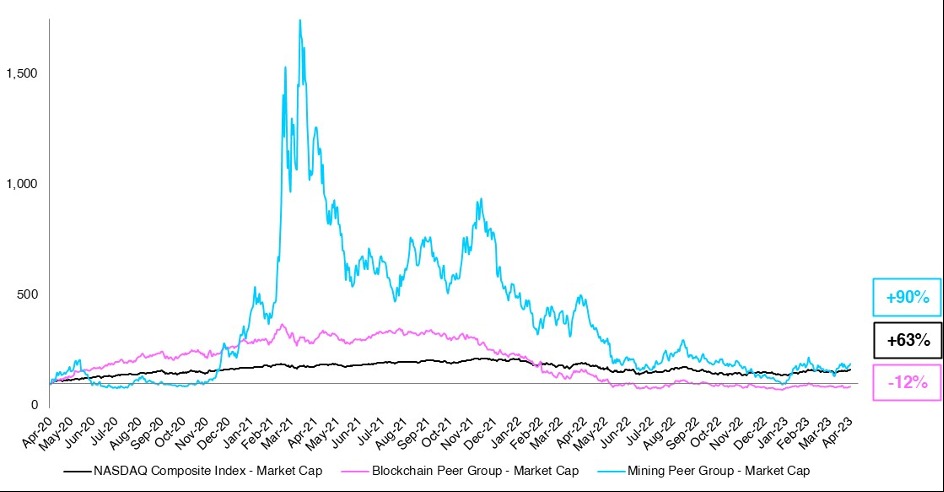 Cryptocurrency miners benefited from a giant bubble in early 2021, but those extremes normalized in early 2022 and mid-2022. Blockchain technology companies and exchanges, on the other hand, are looking much closer to the Nasdaq, albeit with lower volatility, in early 2022 and beyond.
VC investment and M&A
There are still many very active financial investors in the cryptocurrency industry. In 2022, there were 2,541 venture capital (VC) investments in crypto asset companies or blockchain companies, with an investment amount of 26.2 billion dollars (approximately 3.54 trillion yen, equivalent to 135 yen to the dollar).
As of Q4 2022, the top 10 VC-invested companies have raised approximately $8.45 billion.
In the first quarter of 2023, the most active VC investor was Coinbase with 340 investments and NGC Ventures with 258 investments. Six of the top 10 VC investors are based in the US, three in China and one in Singapore.
Conclusion
Valuations of crypto-related companies are in line with other tech companies, indicating that the crypto industry is maturing. The recent crisis has wiped out non-viable companies and has investors taking a less speculative stance on crypto assets.
Certain subsectors may have room to outperform, as epitomized by crypto mining companies. Of particular note are blockchain security platforms such as Fireblocks, Taurus, Copper, and other companies that provide solutions for protecting crypto assets.
Valuations of crypto-related companies will be supported by professional individual investors and M&A on an international level in terms of geography and technology.
Mr. Christophe Morvan: Managing partner of investment bank Drake Star

Mr. Julian Ostertag: Managing Partner and Director of Drake Star

Mr. Sam Levy: Partner of Drake Star
|Translation: coindesk JAPAN
|Editing: Takayuki Masuda
|Image: Shutterstock
|Original: Valuations and M&A Show Things Aren't So Bad for Crypto