Total investment over 21 years
On the 10th, crypto asset (virtual currency) media WuBlockchain released a report summarizing the investment status of venture capital (VC) in cryptocurrency-related companies in 2022. It reported that both the number of projects and total investment exceeded 2021.
VC Yearly Report: Cryptocurrency funding totaled $37.7 billion with 1,769 projects, up 30% (1,364 projects in 2021) and up 19% from 2021 ($31.6 billion in 2021). https://t.co/aJYRtNgvRX pic.twitter.com/drD3xWARIY

— Wu Blockchain (@WuBlockchain) January 10, 2023
According to data from cryptocurrency analytics firm Messari, the number of publicly disclosed VC projects is 1,769, up 30% from 2021 (2021: 1,364). The total investment amounted to 4.98 trillion yen ($37.7 billion), an increase of 19% from 2021. (2021: 4.17 trillion yen ≒ $31.6 billion)
By investment field, Web3-related accounts for the largest share at 36%, followed by DeFi (decentralized finance) at 18%, infrastructure-related at 17%, NFT (non-fungible token)/GameFi at 16%, CeFi (central centralized finance) followed by 14%.
The VC that invested in the most projects was 119 in the investment division of the major US exchange Coinbase. Web3 major Animoca Brands followed with 118, followed by SHIMA (88), Spartan (64), Dragonfly (61), Alameda (59) and A16z (57).
Excluding CeFi, the top funding amount was about 130 billion yen ($ 1 billion) for the DeFi project "Luna", which went bankrupt in May last year. Ironically, NFT studio Yuga Labs, Ethereum-based software company ConsenSys, and cryptocurrency Polygon, each raised 59.4 billion yen ($450 million), in second place.
The next big mining company, Compute North, raised about 50.9 billion yen ($385 million), but the company filed for bankruptcy protection last September. In November, mining giant Foundry Digital, a subsidiary of US virtual currency conglomerate DCG, announced its acquisition.
Relation:DCG's Subsidiary to Acquire Compute North
The aforementioned Animoca Brands will raise about 47.5 billion yen ($358.88 million) in 2022. The cumulative amount of funding to date has exceeded 79 billion yen ($600 million). In addition, the company is aiming to raise about 130 billion yen ($1 billion) in the Metaverse Fund in the first quarter of this year.
Relation:Web3 major Animoca Brands aims to raise more than 100 billion yen with Metaverse Fund
Reduction of VC investment
On the other hand, in 2022, although the number of investments and the total investment amount exceeded 2021 as a result, VC investment was made due to the severe situation in which major virtual currency companies such as Three Arrows Capital (3AC) and FTX continued to fail. also have a significant impact on
Crypto investment firm Galaxy Digital said in its annual VC report that most of the investments were made in the first half of the year. Investments slowed significantly in the third and fourth quarters, with the fourth quarter reporting the lowest number of investment deals and spending in two years.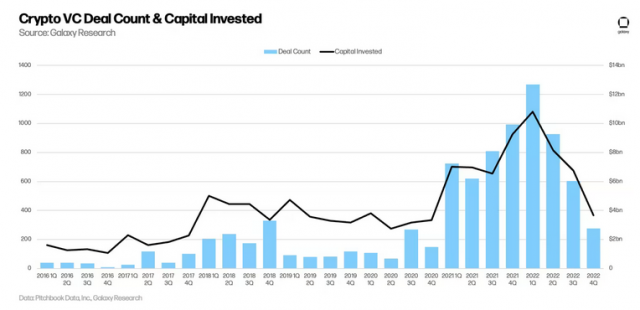 By investment stage, investment in early-stage projects decreased, while investment in late-stage projects remained strong. Investment in pre-seed projects, the stage before the seed stage, has continued to decline for several years, and in the fourth quarter of 2022, the number of late-stage projects exceeded the number of pre-seed projects for the first time.
Galaxy Digital has determined that this phenomenon represents the maturity of the cryptocurrency industry, but at the same time pointed out that it may lead to a decrease in new companies and new products in the near future.
By investment field, Web3-related (early stage) stands out in terms of the number of projects, accounting for more than 30% of the total investment in the fourth quarter of 2022.
On the other hand, the amount of investment capital continued to be dominated by companies building platforms and tools for trading and investment (late stage), so the report emphasized market infrastructure in the cryptocurrency ecosystem. It is a testament to the increasing maturity of the industry.