Coinbase is trying to find new possibilities in Europe as the "crypto winter" cools the US market. But expansion into Europe may not be enough to reverse the company's fortunes.
On the morning of January 10, the company announced layoffs of another 20% of its staff and shut down most of its operations in Japan.
But Coinbase wasn't always in trouble.
turn from boom
At the end of 2021, the company was booming amid the mainstream spread of crypto assets. Investors who had never invested in stocks or bonds rushed to trade hot cryptocurrencies such as Dogecoin (DOGE), Bitcoin (BTC) and Ethereum (ETC).
In 2021, it hit a record $7.8 billion in revenue and saw a 300% increase in monthly active users.
However, in May 2022, a drop in the Terra blockchain stablecoin UST rocked the cryptocurrency market, bitcoin fell to a two-year low, and investors turned to centralized exchanges such as Coinbase. started withdrawing money from Things got even tougher in November with the collapse of rival exchange FTX.
The withdrawal of investors from the cryptocurrency market has become an existential crisis for Coinbase, which derives about 90% of its revenue from transaction fees. If you can't acquire new users consistently, it may become difficult to survive.
Reasons for looking to Europe
The helping hand the company hopes for is Europe. The EU (European Union) is preparing MiCA (Markets in Crypto Assets Regulation) as a common framework for regulating crypto asset trading across its 27 member countries. Coinbase hopes to find new traders in Europe in order to maintain a revenue model that relies primarily on users.
Coinbase will begin expanding into Italy, Spain, France, the Netherlands, and non-EU Switzerland in 2022, prior to the establishment of MiCA. It hopes that tighter regulation in Europe will give it an edge over unlisted competitors and facilitate significant market share gains.
"Accelerating our expansion efforts and trying to deliver on our mission is almost an existential priority for us," said Nana Murugesan, vice president of international and business development. May, told Bloomberg.
Murugesan is leading the company's European expansion, with five regional directors overseeing operations there.
various hurdles
However, gaining market share in Europe for Coinbase may not be so easy.
That's because the tightening of regulations the company expects may not be as tough in Europe to curb the activities of its competitors. Coinbase faces stiff competition from rivals such as Binance and Crypto.com.
The company will need to strengthen its derivatives trading services, which have higher regulatory risk than other trades, and focus resources on other initiatives that can attract European clients to deal with declining revenues and declining share prices. Maybe.
Coinbase's current revenue model relies on its ability to consistently charge high transaction fees to new traders. But those traders are the first to exit the market during a prolonged market downturn, said Lisa Ellis, senior equity analyst at MoffettNathanson LLC.
"A lot of those[novice]retail investors go into a kind of hibernation when it comes to the crypto winter when prices are sluggish," Ellis said.
According to FactSet, Coinbase's 2022 revenue is expected to drop by roughly $3.2 billion (59%) from the previous year. Coinbase expects revenue to fall further in 2023 year-on-year, with a loss of $500 million.
In fact, sales and profits are sluggish as the number of users declines. In the third quarter of 2022 (July-September), monthly active users were 8.5 million, down from 9.2 million in the first quarter. Perhaps more importantly, trading volumes are down.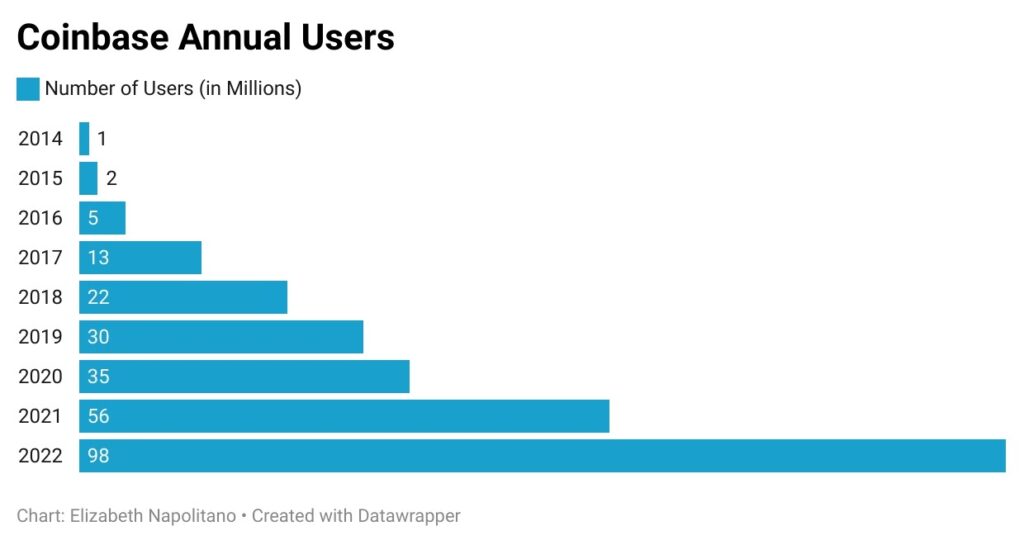 "Since the crypto winter started, trading volumes have shifted significantly from offshore to Europe," said Ellis.
Importance of Europe/Middle East/Africa
According to a letter Coinbase sent to shareholders around the fall of 2022, monthly trading volume in the United States fell by more than 50% from January to September 2022. Globally, it was 18%.
Such high trading volume overseas, combined with the size and population of the EU, is what prompted the company to expand into the European market, said Daniel Seyfert, Vice President of EMEA (Europe, Middle East and Africa) and Regional Managing Director of Coinbase. Daniel Seifert said.
"It is important to realize that there are only about 300 million people in the United States, while there are 8 billion people on the planet. I think it has the character of a lighthouse at times," said Seyfert.
MiCA's provisional approval also marks the perfect time for the company to expand into Europe, he said. The MiCA is expected to go into effect in early 2024, subject to final approval in February.
"As a publicly traded company, we already, and for a very long time, have had a very high level of transparency. It's probably one of the best things to do in terms of getting[regulatory]approval," Seyfert said.
|Translation: coindesk JAPAN
|Editing: Takayuki Masuda
|Image: Shutterstock
|Original: As Crypto Crashes, Coinbase Bets Big on Europe