top News
Derar Islim, interim CEO of Genesis Global Trading, which suspended withdrawals in November 2022, said the company still needs time to sort out its tricky positions. rice field.
"We are trying to move as quickly as possible, but it is a very complicated process and it will take more time," Islim said in a letter to clients on Jan. 4.
After the collapse of FTX in November, Genesis stopped withdrawing funds, making it impossible to move $900 million in assets of some customers of cryptocurrency exchange Gemini, which used Genesis functions. .
Amidst rumors of a potential bankruptcy filing, Genesis said in early December that a resolution would likely take "weeks," not days. Genesis, like CoinDesk, is part of the Digital Currency Group (DCG).
Gemini co-founder Cameron Winklevoss made the situation worse on Monday after he accused DCG CEO Barry Silbert of "vicious time-wasting tactics." ing. In an open letter posted on Twitter, Gemini claims that he has been waiting six weeks for an agreement on repayment but has made no progress.
Market trend
Bitcoin (BTC): Up 0.8% in 24 hours, near $16,800.
Ethereum (ETH): Up 3.3% in 24 hours, near $1250.
Decentral Park Capital portfolio manager Lewis Harland said the Ethereum/Bitcoin (ETH/BTC) ratio could rise toward a two-month high. "We may see an 'unexpected bullish' rally in Ethereum in the coming weeks," he said. Ethereum has its next big update, Shanghai, which could be a bullish factor, he said.
The stock market also rose. The S&P 500 rose 0.7%, the Nasdaq 0.6% and the Dow Jones Industrial Average 0.4%.
latest price
● CoinDesk Market Index (CMI): 834.73, +1.4%
Bitcoin: $16,820, +0.9%
Ethereum: $1,253, +3.4%
● S&P500: 3,852.97, +0.8%
Gold: $1,862, +1.2%
10-Year US Treasury Yield: 3.71%, -0.1
market analysis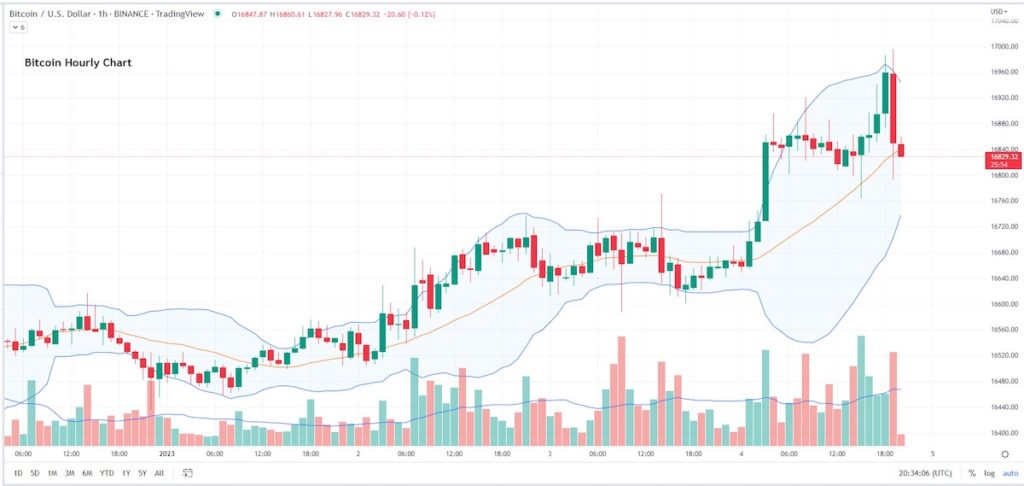 A look at Bitcoin's daily chart shows that the price is above the 20-day moving average and nearing the upper end of the Bollinger Bands.
A breakout of the upper bound will be a bullish signal, which will require strong momentum. As of now, there are no signs of that.
|Translation: coindesk JAPAN
|Editing: Takayuki Masuda
| Image: CoinDesk
|Original: Crypto Markets Today: Crypto Broker Genesis Asks for Clients' Patience